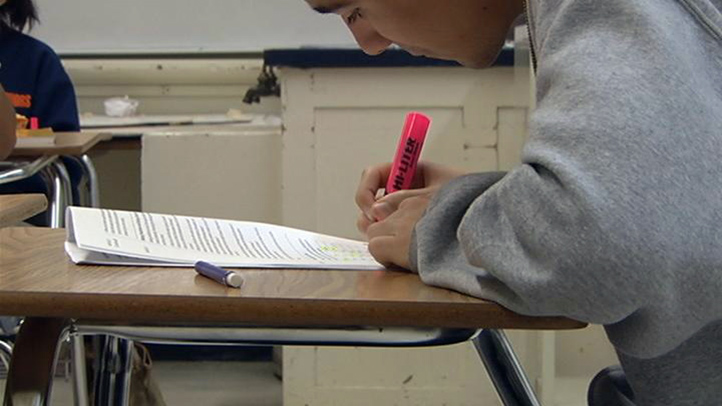 Gov. Terry McAuliffe is giving schools extra money to help support year-round and extended-year school programs.
The governor's office announced Wednesday that McAuliffe has awarded more than $7.7 million to 66 schools.
The General Assembly created the Extended School Year Grant Program after a legislative commission found that students in struggling schools do better with longer school years.
McAuliffe said the grant distributions would help narrow the achievement gap between richer and poorer school districts.
The following schools were awarded grants:
Bristol — $230,341 for existing programs at Highland View Elementary, Joseph Van Pelt Elementary, Stonewall Jackson Elementary and Washington-Lee Elementary
Henrico County – $640,656 for existing programs at Baker Elementary, John Rolfe Middle, Varina High, Brookland Middle, Fairfield Middle and the College Readiness Center at L. Douglas Wilder Middle
Loudoun County — $137,771 for an existing program at Middleburg Community Charter School
Lynchburg — $921,248 for existing programs at Bedford Hills Elementary, Dearington Elementary, E.C. Glass High, Heritage Elementary, Heritage High, Hutcherson Early Learning Center, Linkhorne Elementary, Linkhorne Middle, P.L. Dunbar Middle, Paul Munro Elementary, Perrymont Elementary, R.S. Payne Elementary, Sandusky Elementary, Sandusky Middle, Sheffield Elementary, T.C. Miller Elementary and William Marvin Bass Elementary
Manassas Park — $300,000 for existing programs at Cougar Elementary, Manassas Park Elementary, Manassas Park Middle and Manassas Park High
Newport News — $2.7 million for new programs at Carver Elementary, Epes Elementary, Hidenwood Elementary, Lee Hall Elementary and Palmer Elementary; and existing programs at Jenkins Elementary, Newsome Park Elementary and Sedgefield Elementary
Petersburg — $700,000 for existing programs at A.P. Hill Elementary and Peabody Middle
Radford — $212,240 for existing programs at Belle Heth Elementary, Dalton Intermediate and Radford High
Roanoke — $1.6 million for new programs at Fairview Elementary, Fishburn Park Elementary and Monterey Elementary; and for existing programs at Fallon Park Elementary, Garden City Elementary, Hurt Park Elementary, Lincoln Terrace Elementary, Roanoke Academy for Math and Science, and Westside Elementary
Rockingham County — $270,349 for new programs at Mountain View Elementary and Fulks Run Elementary
Extended year planning grants were awarded to the following schools:
Carroll County — $44,000 for new programs at Carroll County High, Carroll County Middle, Fancy Gap Elementary, Gladesboro Elementary, Gladeville Elementary, Hillsville Elementary, Laurel Elementary, Oakland Elementary, St. Paul School and the Regional Alternate Education Center
Copyright AP - Associated Press