It's been a busy day in D.C. during a transfer of power that — no matter where you sit on the political spectrum — is getting everyone talking.
Supporters and protesters descended on Washington, D.C., Friday for the inauguration of Donald Trump. While the morning was mostly calm, some protesters turned violent on the streets of D.C. shortly before President Trump took office. As the day goes on, clashes have been growing increasingly intense.
Trump, Pence Cut Cake With Saber at Armed Services Ball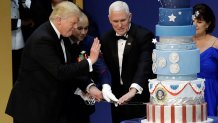 President Donald Trump and Vice President Mike Pence took part in a traditional cake cutting with members of the U.S. military at the "Salute To Our Armed Services" Inaugural Ball — Trump's third and final ball of the evening. The military's traditional cake cutting honors the sacrifice and service of its members.
Trump also accepted congratulations, via video conference, from armed service members in Afghanistan and told them they are "the nicest people."
"But they're only nice right now to me. They're probably definitely not nice in other ways. You're amazing people. We're with you 1,000 percent. You're doing an incredible job."
Local
Washington, D.C., Maryland and Virginia local news, events and information
He and first lady Melania Trump danced to "I Will Always Love You."
Trump Asks Ball Crowd If He Should Keep Tweeting
President Donald Trump asked the crowd at the second of three inaugural balls he's attending whether he should "keep the Twitter going?"
The crowd roared in apparent approval.
Trump said his all-hours tweeting to his more than 20 million followers is "a way of bypassing dishonest media."
He spoke with first lady Melania Trump by his side. She wore an ivory column gown.
"Now," he added, "the fun begins."
The first couple again danced to "My Way."
The First Dance at the Liberty Ball
Trump and his wife danced at the first of three inaugural balls they attended Friday night.
Trump said his first day as commander-in-chief was great.
Trump said, "People that weren't so nice to me were saying that we did a really good job today.'' He adds, "It's like God was looking down on us.''
They danced to "My Way," and they were joined by Vice President Mike Pence and his wife, Susan, as well as Trump family members.
The Walk and Wave
[[411358655, C]]
Veteran parade-watchers had speculated about whether or not it would happen: would President Trump get out of the limo and walk the parade route, in a man-of-the-people moment that's become a tradition?
Or would he stick to his "we're getting down to business" message and stay in the car?
In the end, he split the difference. He has emerged from his limo briefly twice, walking and waving with his wife, Melania, and other family members. Then he emerged for a longer walk.
Each time, he was greeted by loud cheers from supporters.
Police, Protesters Clash During Violent Protests in Downtown DC
[[411354175, C]]
Tear gas filled the air in downtown Washington, D.C., as police and protesters clashed in yet another violent demonstration.
Acting Police Chief Peter Newsham said at a news conference Friday night that 217 protesters were arrested. Newsham said the protesters caused "significant" damage to several businesses downtown. Six officers sustained minor injuries.
Hours after Donald Trump was sworn in as the nation's 45th president, police in riot gear lined 12th and L streets NW as protesters threw rocks and bottles at them. Video from the scene showed a number of flash-bang grenades going off, but it's not clear whether they were thrown by police or by protesters.
In addition to smashing windows, a limousine was set on fire, sending a plume of black smoke into the sky. Protesters threw several trash cans into the middle of the street and lit them on fire at about 2:30 p.m.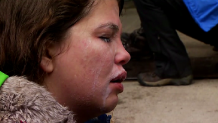 Obama Bids Final Farewell at Joint Base Andrews
Former President Barack Obama addressed a gathering of staff at a farewell ceremony at Joint Base Andrews.
Barack Obama, who will continue to live in Washington, is leaving town with his family after the inauguration for a vacation in Palm Springs, California.
Biden Takes Train Back to Delaware
[[411368435, C]]
Former Vice President Joe Biden gave a thumbs up to a camera on the platform as he boarded an Amtrak train bound for Delaware following the swearing-in ceremony.
When he was a U.S. senator from Delaware, Biden regulary took the commuter train between Washington and home.
"We Will Determine the Course of America": Donald Trump Sworn in as President
[[411347215, C]]
Donald Trump became the 45th president of the United States after taking the oath of office on the West Front of the Capitol.
The unorthodox politician and the Republican-controlled Congress are already charting a newly conservative course for the nation. And they're promising to reverse the work of the 44th president, Barack Obama.
During his inaugural address, Trump said Americans have "joined a great national effort to build our country" and "will determine the course of America and the world for many, many years to come."
Trump said the forgotten men and women of the country "will be forgotten no longer."
Trump also thanked all of the past presidents in attendance, including former campaign foes Barack Obama and Bill Clinton.
Protests Turn Violent; Riot Police Use Pepper Spray
[[411341085, C]]
Protests first turned violent less than two hours before Trump took office.
About 100 to 200 protesters dressed in black marched along K Street in Northwest D.C., throwing newspaper boxes and smashing the window of at least one bus shelter.
As officers tried to surround them, protesters hurled rocks and bottles at them. Police in riot gear used pepper spray and surrounded the group.
Officers were prepared to make a mass arrest, News4's Mark Segraves said.
'Chance of a Lifetime': Trump Supporters Revel in Inaugural Festivities
Americans eager to see the Donald Trump take the oath of office as the nation's next president made their way through downtown Washington and onto the National Mall early Friday morning.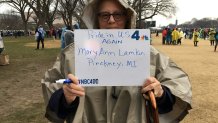 Kevin Puchalski, a 24-year-old construction worker, drove to Washington from Philadelphia with two friends to see Trump's inauguration.
"I'm here for history. This is the first president that I voted for that won," Puchalski said.
Anita Redd, 55, told News4 she's "just glad to be here."
"This is the chance of a lifetime. This is history," Redd said.
Casey Janis, 38, and MaryAnn Lamkin, 64, drove nine hours from Michigan to witness Trump's inauguration. Lamkin described Trump's movement as a "renaissance."
"This political correctness is making it tough to communicate with one another out of fear," Lamkin said.
Melania Trump Channels Jackie Kennedy on Inauguration
[[411320925, C]]
First lady to-be Melania Trump donned a powder blue Ralph Lauren dress on Inauguration Day, similar in style to those made famous by former first lady Jacqueline Kennedy.
Melania stepped out in the dress on her way into St. John's Church where she, the president-elect and the future first family attended a service Friday morning.
Her style drew praise on Twitter, with many comparing her outfit to Kennedy's.
"Yasss to Melania Trump's blue inaugural dress!!! So Jackie O!!" wrote Michelle Beaman.
Protesters Tie Themselves Together, Block Ticket Line
[[411313695, C]]
Early Friday, a group of about 10 protesters sat in a circle and tied themselves together to block an entrance for ticket holders near 10th and E streets in downtown Washington.
As they sat on the ground, a larger group cheered them on, chanting phrases like, "We won't be silent."
Kellyanne Conway Dons 'Trump Revolutionary Wear' for Inauguration
[[411310025, C]]
Donald Trump senior adviser Kellyanne Conway sported a "Trump revolutionary wear" outfit for the inauguration ceremony on Friday, she told NBC.
"It's just Gucci," an elated Conway told NBC about the red, white and blue outfit prior to the ceremony Friday morning.
But, Conway's style drew some ribbing on Twitter, with users pointing out how colonial the outfit looks.
"@KellyannePolls goes 4 #revolutionary look at the #Inauguration Auditioning 4 @Hamiltonthemusical? #nutcracker?" wrote Karyn Miller-Medzon.
Supporters and Protesters Find Common Ground at Union Station
[[411306435, C]]
As supporters and protesters arrived at Union Station in Washington, D.C., early Friday, some took time to find common ground.
Linwood Yarborough, a Trump supporter from South Carolina, spent some time chatting with a man who traveled from California to protest the inauguration.
"I just think it is wonderful to see people pro and con. Freedom is great and we are so fortunate in this country that we can have freedom of speech and we can have a difference of opinion," Linwood said. "But we should all come together as a nation and move forward, and I hope to see some of that."
In another exchange, a group of Trump supporters from Tennessee asked a protester from New York to take a picture with them. The group laughed and talked as the supporters gave a thumbs-up and the protester gave a thumbs-down.
Security Delays Didn't Dampen Spirits
Americans eager to see Donald Trump take the oath of office gathered at security checkpoints along the National Mall early Friday morning, waiting with their tickets in hand.
But for a crowd at the Red Gate, there was a slight delay. Gates were expected to open at 6 a.m., but for an unknown reason the opening was pushed back 30 minutes.
The delays didn't dampen the spirit of supporters waiting to get inside the checkpoint. Some in the crowd began a chant of "USA!'' when the gates finally opened.
"We Are Going to Unify This Country"
[[411263955,C]]
On Thursday night, Trump spoke to the Make America Great Again concert at the Lincoln Memorial on the eve of his inauguration, reminiscing about the campaign, thanking his supporters and saying his administration would unify the country.
"It's a movement like we've never seen anywhere in the world, they say. There's never been a movement like this. And it's something very, very special," Trump said.
"We are going to unify our country. Our phrase -- you all know it, half of you are wearing the hat -- Make America Great Again ... we are going to make America great for all of our people.
"That includes the inner cities. That includes everybody," Trump said.
Later, he added, "I promise you that I will work so hard. We are going to get it turned around. We are going to bring our jobs back."
Long Lines at the Feminist Pop-Up Store
In D.C.'s Adams Morgan neighborhood, a pop-up store called The Outrage opened to sell souvenirs to people attending the Women's March on Washington and their sympathizers.
The line to get in the store stretched down the block, and some visitors reported waiting 45 minutes to get in.
While there, shoppers could nab a "Nasty Women Unite" sweatshirt, among other wearables, and tack on a donation to Planned Parenthood, if they chose.
"It's crazy to me and to so many women I've talked to in the store that it's 2017 and we are worried about fighting for our rights," said one woman working in the store.
"I have a daughter, and she's 12, and I wanted her to have this," said a shopper, holding up a shirt that read, "The Future is Female."
The march kicks off with a rally at 10 a.m. Saturday.
Laying a Wreath
[[411243655, C]]
Trump and Vice President-elect Mike Pence visited Arlington National Cemetery on Thursday for a wreath-laying ceremony at the Tomb of the Unknowns.
The two were stern and, as is required, silent. The only sounds were the constant clicking of news cameras and a plane overhead.
It was the first event of the inauguration ceremonies, which will last through Saturday morning with a private interfaith prayer service at Washington National Cathedral.
Lexie Schapitl and Megan Yoder contributed to this report.
Copyright AP - Associated Press