A woman charged with killing a Virginia Tech student will go to trial next February.

Twenty-three-year-old Jessica Ewing is charged with first-degree murder and transporting, secreting or altering a body.
Media outlets report that Ewing waived her right to a speedy trial during a hearing Monday in Montgomery County Circuit Court. The former Virginia Tech student's trial is scheduled to begin Feb. 17, 2015.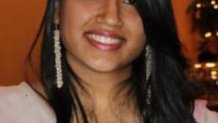 According to cell phone records obtained by Collegiate Times, Ewing called numerous people, saying she had "done something terrible." She called her ex-boyfriend, 23-year-old Keifer Kyle Brown, to help her.
Brown is accused of helping Ewing move Shrestha's body into her black Mercedes Benz, which was found on a rural Blacksburg road.
Brown -- who graduated from Virginia Tech last year -- was charged with accessory after the fact.
Copyright AP - Associated Press