A tree fell across the Capital Beltway (Interstate 495) near Springfield, Virginia, Thursday morning, blocking all Inner Loop lanes for hours.
All lanes have reopened, the Virginia Department of Transportation said.
The tree fell near Braddock Road (Virginia Route 620). Virginia State Police said they got the report about 3 a.m.
Cars were forced to use the Express Lanes to get by, and tolls were suspended, the Metropolitan Area Transportation Operations Coordination Program said.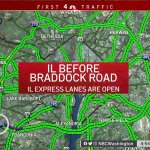 Stay with News4 for more on this developing story.