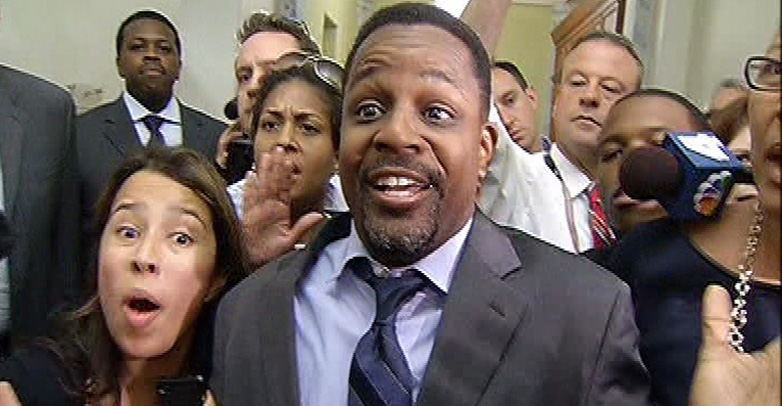 For my final column of the year I thought about predicting what might happen in District politics during 2013. In order to do so, I needed to reflect on 2012.
Wow. 2012 was action-packed and at times insane. It deserves a final review.
With that in mind, here is my top ten list of 2012 D.C. political stories.

1) Council Chair Kwame Brown resigns and pleads guilty to felony bank fraud and misdemeanor campaign finance charges. Only one other political debacle in 2012 came close to the self-inflicted humiliation and circus of Brown's resignation. And that was...
2) Ward 5 Councilmember Harry Thomas, Jr. resigns and pleads guilty to stealing government funds intended to benefit children. He spent the pilfered money on a luxury SUV, fancy rounds of golf, a good time at Hooters and other indulgences. Thomas is now in prison.
3) Long shot, unknown candidate David Grosso defeats incumbent At-Large Councilmember Michael A. Brown. Grosso said he purposefully picked Brown as an opponent. Brown's re-election bid began to unravel when he announced the mysterious disappearance of over one hundred thousand dollars in campaign funds. The missing money left Brown crippled. Grosso pounced at exactly the right time.
4) In a span of three months, three aides to the Gray for Mayor 2010 campaign plead guilty to various crimes associated with their respective roles in an unfolding scandal that involves straw donors, oodles of sketchy money orders, a shadow campaign and maybe a whole lot more.
5) Councilmembers Muriel Bowser (4), David Catania (At-Large) and Mary Cheh (3) call on Mayor Vince Gray to resign. Bowser, Catania and Cheh piled on after a Gray campaign aide pleaded guilty to her role in the shadow campaign. A media feeding frenzy ensued.
6) Chief Financial Officer Natwar Gandhi is reappointed to a 5 year term. Gandhi and his office are now besieged with questions about a Federal investigation involving the awarding of a valuable Lottery contract.
7) At-Large Councilmember Phil Mendelson is selected by his peers to temporarily replace the disgraced Kwame Brown as Council Chair. Mendelson later wins a special election and captures the slot through the end of 2014.
8) "Mayor-for-Life" Marion Barry insults local Asian store owners. A few weeks later, Barry insults Filipino nurses and "Polacks." Each of the three incidents garners national and international media coverage.
9) Ward 6 Councilmember Tommy Wells announces that he is exploring a 2014 mayoral run. If you are wondering why this is on my top ten list, you are asking a good question. Following the announcement, Wells has seemingly done nothing.
10) The Libertarian Party secures its place on the ballot in future District elections. Libertarians will join Democrats, Republicans, and the Statehood Green party in holding 2014 primary elections in the District.
Can 2013 top 2012? We can only hope.