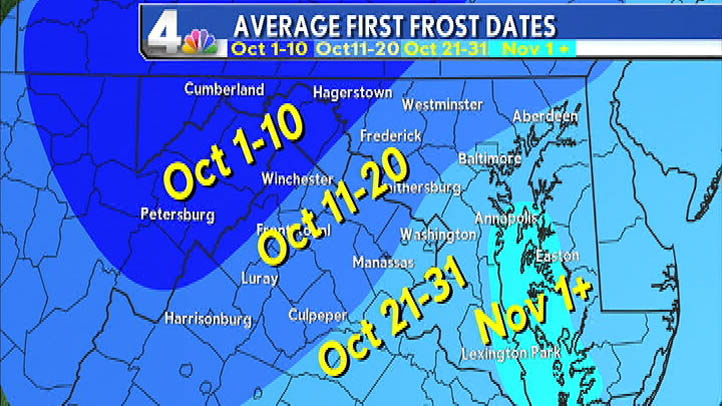 This summer was certainly one for the record books. Reagan National Airport broke the 100-degree mark five times, the most in a single summer since 1997, and from July 21 through July 24 even the overnight low temperature failed to drop below 80 degrees.

But September is here, and with it thoughts of cooler days and chilly nights, high school football and tailgating at FedEx Field.

Though these past few days have felt summer-like, Mother Nature is about to remind us that the change of seasons in rapidly approaching. A strong cold front will reach the Mid-Atlantic on Thursday, dropping our daily temperatures by 20 degrees or more. Downtown and bayside locations will see overnight lows in the low 50s by the weekend, and the Shenandoah Valley will drop to near 40 degrees.

With air that chilly on the way, it is time to start thinking about when to expect our first frost. Over the past five years, Reagan National Airport has averaged a first frost date of Nov. 12, but Dulles International Airport and Martinsburg have averaged a first frost date of Oct. 20. That difference of more than three weeks is due to two major influences: 1) The urban heat island generated by all the concrete buildings and paved surfaces, which retain heat far more effectively than natural ground cover, and 2) the Chesapeake Bay, which has an average water temperature above 60 degrees through most of October.

The graphic above averages our first frost dates to better approximate when any given location should anticipate frost. Keep in mind, this is NOT a specific forecast for this fall season, just an average.