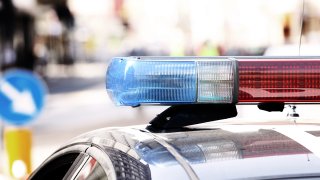 A woman was shot, a man was stabbed and a third person was also injured in a brawl outside a bar in Herndon, Virginia, Fairfax County Police said.
Police were called around 1:50 a.m. Saturday for reports of a fight in progress between two groups in the 2400 block of Centreville Road.
Authorities believe two groups got into a dispute inside a bar and the altercation spilled into a parking lot, where the shooting and stabbing happened. The third victim was injured from a physical assault, police said.
The three victims were taken to a hospital. None of the victims' injuries are considered life-threatening, police said.
The name of the bar was not immediately known.
No arrests have been made, and no suspect descriptions were available as of late Saturday morning. Detectives were reviewing surveillance camera footage to identify suspects.
Police asked people to avoid the area as officers continue to investigate.
Stay with NBC Washington for more on this developing story.