The following content is created in partnership with Washington Regional Transplant Community (WRTC) and Donate Life. It does not reflect the work or opinions of NBC Washington's editorial staff. Visit BeADonor.org to learn more about WRTC and Donate Life.
When Gary Joyner was diagnosed with polycystic kidney disease (also called PKD), he didn't tell his family. He didn't want them to worry—even if it meant suffering alone. But when his health began to deteriorate, he decided it was time to share news of his condition in a way that would give his loved ones' hope. As his wife, Patricia, recalls, "We were sitting on the sofa and he said he had something he wanted to talk to me about. He said, 'Even with this kidney disease, it wasn't a death sentence.'"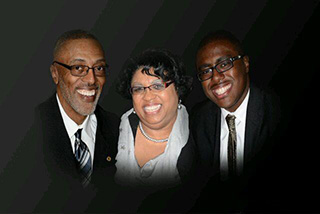 Gary, Patricia and their son Brandon did everything they could to control the PKD symptoms and help slow down the loss of kidney function. But one Sunday in March 2016, Patricia came home from church and knew something was wrong with Gary. He was rushed to the hospital where it was discovered he had suffered a devastating brain aneurysm. He passed away the next day.
While at the hospital, Patricia and Brandon were presented with the opportunity of organ donation; in death, Gary had the chance to save someone else's life. Brandon was skeptical at first: "When you're just learning your loved one passed, you don't know really how to feel about it," he says. After much thought and prayer, however, both Brandon and Patricia knew it was the right decision. On one of their darkest days, they courageously provided a ray of hope for strangers in need. "If anybody needed anything, my father was always there," Brandon says. Donating his lungs and tissues (heart valves that are used to repair congenital cardiac defects and skin to heal burn victims) felt like a fitting tribute to a person whose life was devoted to helping others.
The need is real and very serious, especially among minority populations that are often predisposed toward chronic conditions that affect the kidneys, heart, lungs, pancreas and liver. African-Americans account for more than a third of the 114,000 patients on the national transplant waiting list, but represent only 16 percent of deceased organ donors nationwide.
One reason for this is a lack of access to information about donation that can help individuals overcome the discomfort and fear they may have about this topic. Here are some of the most important facts to know that will help you and your loved ones make an informed decision about organ, eye and tissue donation:
Organ donation is only considered after all lifesaving efforts have been exhausted. When someone is very sick or injured and admitted to the hospital, the medical team's number one priority is always to save that person's life. Organ donation is only considered after death has been declared by a physician.


Strict standards are in place to ensure ethical and fair distribution of organs. Financial or celebrity status, age, race, gender or religious affiliation have no impact on who receives a transplant. Organs are matched by blood and tissue type, size, medical urgency, time spent on the waiting list and geographic location.


Donation can't take place unless it's been designated by the potential donor or approved by a legally authorized representative. When you register to be a donor, you are legally authorizing organ, eye and tissue donation on your behalf. If you are not a designated donor, only your legally authorized representative (usually a spouse or relative) can make that decision after your death.


Donors are needed for all races and ethnic groups. Transplant success rates often increase when organs are matched between members of the same ethnic background. A single donor can save up to 8 lives and improve the quality of life for more than 50 people by restoring sight, repairing injured joints and helping burn victims heal more quickly.
Today, Gary's family takes comfort in knowing that he continues to make a difference in other people's lives. "I'm grateful for the time I had with my dad," Brandon says, "but I'm also blessed to be able to help others find new life as well." Adds Patricia, "He put us in a place where we can still find joy, even in losing him."
Washington Regional Transplant Community (WRTC) is the federally-designated organ procurement organization for the metropolitan Washington, D.C. area. It is a non-profit organization responsible for recovering and distributing organs and tissues used in lifesaving and life-enhancing transplants, as well as medical research and therapy. WRTC serves approximately 5.5 million people, 44 hospitals and six transplant centers. It also educates the public about organ, eye and tissue donation with the goal of increasing the number of registered organ donors, and ultimately saving more lives. Visit BeADonor.org for more facts and information that can help you make a legal and informed decision about donation.