Officials are investigating reports of more than two dozen suspicious letters sent to D.C. public schools, according to the FBI.
Investigators said that the letters are identical to white-powder letters received by District schools in October 2010, and they believe the letters contain a harmless white powder.
DC Fire/EMS spokesman Pete Piringer confirmed that according to the FBI, there had been 29 school hazmat incidents Thursday by 9 p.m.

The schools known at this time are:
William Powell Elementary School in Northwest
Terrell Elementary School in Southeast
Ronald Brown Middle School in Northeast
Martin Luther King Elementary School in Southeast
Lafayette Elementary School in Northwest
Hamilton Molten Academy in Northeast
School Without Walls Senior High School in Northwest
Ballou Senior High School in Southeast
Anacostia High School in Southeast
Burroughs Elementary School in Northeast
Spingarn High School in Northeast
Marie Reed School in Northwest
Peabody Elementary School in Northeast
Eastern High School in Northeast
Palmer Elementary School in Southeast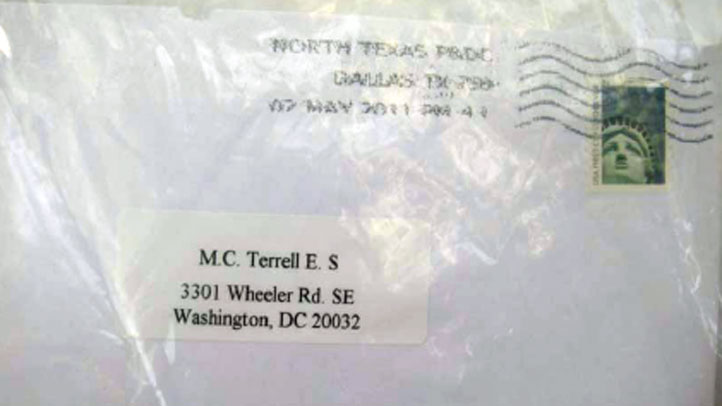 (NBC Washington has obtained an image of one of the letters.)
The letters are similar enough to each other to believe that they were sent by the same source.
"We respond to a lot of white-powder letters," Assistant Director in Charge of the Washington Field Office of the FBI James W. McJunkin said. "This is just unique because it looks like it's coming from the same source or sources."
The FBI does not consider the letters a prank or a joke but a "serious criminal offense," McJunkin said.
Sources said that each envelope has a sheet of paper in it with "AL-AQEDA-FBI" typed on the paper. The letters also include white powder.
So far, none of the letters has been found to contain hazardous substances, but the FBI is treating each letter found like it could be dangerous. Anyone who receives such a letter should report it to police or the fire department.
Each of the letters is addressed with a type-written sticker on the envelope. All of the letters have Dallas, Texas, postmarks on them.
All city school mail rooms are on "lockdown" until this situation is resolved.
"There is a plan in place both at the postal inspector's level and at the law enforcement level here … going forward so that the mail will be safe at the schools," D.C. Police Chief Cathy Lanier said.
All DCPS schools will start on time Friday.
Local
Washington, D.C., Maryland and Virginia local news, events and information
The D.C. Emergency Management Office said one school has shown the substance to be "cornstarch," but that is not clear for other schools at this point.
D.C. Fire & EMS, D.C. Police and the FBI are investigating. D.C. Fire contacted the FBI shortly after noon, when the first letter was reported at Terrell Elementary. Precautionary evacuations were made at some locations, and no illnesses or injuries have been reported, according to Piringer.
All of the letters are being collected and will be submitted to a lab for analysis.
DC Emergency Management Director Millicent West is briefing the mayor's office on the unfolding developments and City Administrator Allen Lew's office is also investigating the outbreak of incidents.
At least four of the scenes, including Terrell Elementary and Lafayette Elementary, have been cleared after no apparent threats were found, according to the FBI.
At Lafayette Elementary, the children were kept inside the school and the school was under lockdown as of 2:30 p.m., according to NBC Washington's John Schriffen. By 3 p.m. the letter was deemed to be safe and the scene was cleared. The students were to be released from school at their normal time of 3:15 p.m.
Officials for school districts in Montgomery, Prince George's and Fairfax counties said they have not reported any suspicious letters.
"It's an incredibly disruptive situation, and we take every one of these things seriously because we have to," Mayor Vincent Gray said. "It diverts our attention from other situations that our law enforcement should be focusing on."
Previous Incidents
A suspicious letter filled with a powdery white substance was sent to Anne Beers Elementary School in Southeast back in October 2010. The letter tested negative for harmful substances. The FBI is connected that incident with suspicious letters received by two other D.C. schools two weeks earlier. Those schools were Adams Elementary and Bancroft Elementary -- both in Northwest.
Several schools in the Houston area also received suspicious letters at the same time.
The Post Office has told NBC reporter Scott Gordon in Dallas that the letters discovered on Thursday originated from the same postal ZIP code as the previous letters in 2010. They started as far back as 2008.
The letter writer is quite prolific, Gordon reported. The sender has been mailing letters out to all over the world. There are always messages about al-Qaida and America. His or her motives are unknown.
Stay with NBCWashington.com for more information.