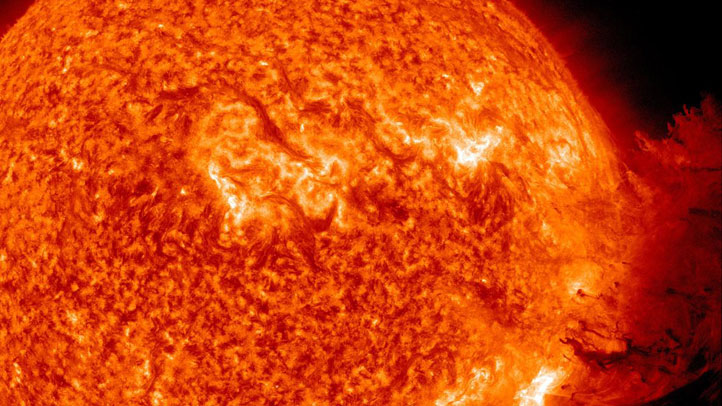 It turns out you aren't the only one sweating in this near 100-degree heat. The sun needs to let off a little steam every once in a while, too.
NASA's Goddard Space Flight Center in Greenbelt, Md., just released photos and video of what they call an M-2, or medium-sized solar flare. The incredible display was captured by a series of satellites, including the Solar Dynamics Observatory.
NASA says the flare, which erupted Tuesday, created a large cloud that appeared to cover almost half of the entire surface of the sun. The particles shot from the surface of the sun at 1,400 kilometers per second and contained incredibly cool gases.
NASA says that particles from the flare were partially directed at Earth, but should only deliver a "glancing blow" to the Earth's magnetic field sometime today or tomorrow.
The National Weather Service said satellites could feel minor effects and some power grids could experience weak impacts. But it also means that astronomers and sky watchers in higher latitudes could see some auroras in the night sky.
For more on the hot weather currently being felt in the D.C. region, click here.
View more videos at: http://www.nbcwashington.com.
Copyright AP - Associated Press