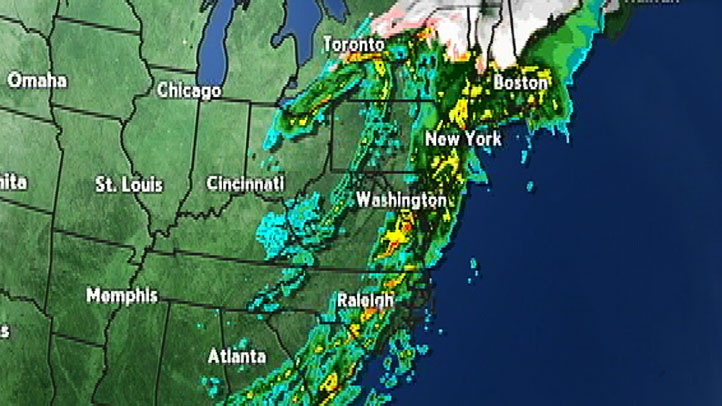 A major story system hangs over the East Coast, stretching all the way from Florida to Maine. While the storm's effects will be mild in the D.C. metro region, if you are hitting the roads or airports today, expect delays.

The day before Thanksgiving, one of the busiest on area roadways, started off wet. Overnight showers left streets and highways slicked, contributing to accidents in the early commute.

A flood warning remains in effect until midmorning in Frederick County, where officials said streams and rivers have run over the banks and into the roadways there. Drivers are urged to exercise caution.

The good news - the major storm system hanging over the East Coast is moving out of the D.C. region, and is expected to clear by mid-morning. A second line of lighter showers will arrive in the afternoon, but will not be as severe as Tuesday night's storms.

The bad news for travelers - the big storm is already affecting both air and road travel along the I95 corridor. In New York and New Jersey, rain will persist until midday. The storm, which is dropping snow in New England now, could hang around until early afternoon.

Airport delays have been reported in Boston, New York, Newark, and Philadelphia. Gusting winds has also caused delays in Atlanta. A major storm in the Pacific Northwest is also causing flight delays.
AAA says across the country, 42 million people will be on the move for the holiday, 90 percent driving out of town. Amtrak also expects large crowds, saying every single passenger rail car in the fleet will be in use on Wednesday.

For those traveling today - be patient and take it slow.

Follow NBC Washington to get the latest news, events and entertainment anytime, anywhere: on air, online, and on Facebook // Twitter.