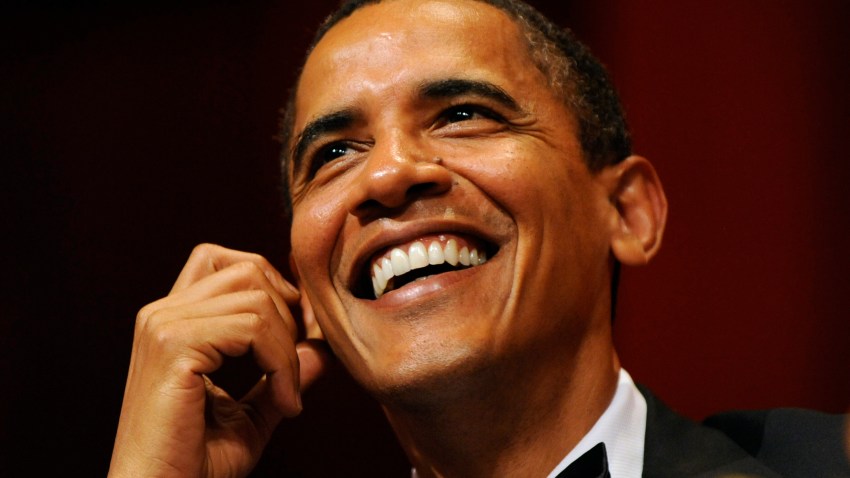 The stars will shine in D.C. Saturday night as some of the biggest names in politics and entertainment join the country's biggest celebrity for dinner and laughs.
Every U.S. president since 1920 has attended the event, which raises money for academic scholarships and honors award-winning journalists. More importantly, it offers entertainers, politicians and the media to trade barbs.
As host of the $225-per-ticket event at the Washington Hilton Hotel Ballroom, Jay Leno will be lead jester, but expect the president to be prepared to show off his comic timing, as well.
Organizers are calling this the "greenest" Correspondents' Dinner ever and made an effort to use local organic food and wine -- and pledging to donate leftovers to the D.C. Central Kitchen -- but PETA says the presence of steak on the menu means it's not green enough. The organization plans to protest.
Other celebrities on the 3,000-deep guest list include new Washington Redskins quarterback Donovan McNabb, Lindsay Vonn, Kristin Davis, Jimmy Fallon, Ryan Seacrest, Queen Latifah, Betty White, Jon Bon Jovi, Jessica Simpson, Mariska Hargitay, the Jonas Brothers, Kathryn Bigelow, Morgan Freeman, Justin Bieber, Alec Baldwin, Mary J. Blige, Adrian Grenier, Steven Spielberg, Michael Douglas, John Cusack, Scarlett Johansson, Jessica Alba, Jeremy Piven and Michelle Pfeiffer
Politicians expected include Rep. Eric Cantor, R-Va., House Majority Leader Steny Hoyer, D-Md., Treasury Secretary Timothy Geithner and Richard Holbrooke, the U.S. special envoy to Afghanistan and Pakistan.
Manhattan-based fashion designer Jason Wu, who gained fame when Michelle Obama wore one of his designs for an interview with Barbara Walters shortly before the November 2008 presidential election, also may be in attendance. The first lady also chose one of his dresses for the inaugural balls in January 2009.
For the third straight year, the New York Times will not be in attendance, taking the position that the dinner gives the media a chance to get too chummy with politicians.
If you're looking to generate some buzz in the blogosphere, you should be warned it could be tough to Salahi the party. After Tareq and Michaele got through White House gates without invitations to a state dinner, guests had to bring a dinner ticket or printed invitation to attend dinner pre-parties at the Washington Hilton. Organizers said they were trying to cut down on crowds.
Seventeen students receiving $132,000 in college scholarships will be introduced, and the following journalists will be honored:
Ben Feller, of The Associated Press, and Jake Tapper, of ABC News, for winning the Merriman Smith Award for presidential coverage under deadline pressure.
Mark Knoller, of CBS News, for winning the Aldo Beckman award for sustained excellence in White House coverage.
Suzanne Bohan and Sandy Kleffman, of the Contra Costa (Calif.) Times, for winning the Edgar A. Poe Award for excellence in coverage of news of national or regional significance.
Copyright AP - Associated Press