A 10-year-old girl enjoying a summer evening was killed when several men opened fire into a crowd in her Northeast D.C. neighborhood Monday.
Police released video showing the four suspects. No arrests have been made.
Police are searching for a black Infiniti four-door sedan in connection with the shooting. They said the car is missing its rear bumper.
Makiyah Wilson was just feet from her front door, playing near a group of 15 to 20 people in a courtyard in the 300 block of 53rd Street NE when four men got out of the sedan and started shooting about 8 p.m., Assistant Police Chief Chanel Dickerson said.
"At 8 o'clock at night, this is a full courtyard. It's full of children, it's full of families," said Wilson's cousin, Raven Hall.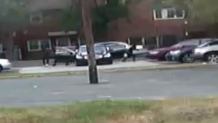 Wilson, a man and a woman were found injured at the scene, police say. Two additional men sought treatment for gunshot wounds at an area hospital.
"The people that did this, they did this indiscriminately," Dickerson said. "They came out in this community without regard to human life and opened fire, and we have to stand up as a community to say, 'No more.'"
Police responded and reported that Wilson was unconscious and not breathing, according to police. Hall said she watched as first responders worked to save the little girl's life.
"He was just pumping. She died right there," Hall said.
"A 10-year-old girl lost here life here today. All the hopes and dreams that her family had for her is gone," Dickerson said. "And we have to be outraged. And we have to work with the police."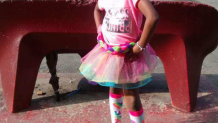 Mayor Muriel Bowser left the Home Run Derby at Nationals Park to urge the public to work with police to find the shooters.
Local
Washington, D.C., Maryland and Virginia local news, events and information
"We know that members of the community will continue to work with the police department to let us know anything they know about what happened here tonight," Bowser said.
Police are asking anyone with information to call 202-727-9099. Those wishing to remain anonymous may text a message to 50411.
The shooting happened near Marvin Gaye Park and the KIPP DC Quest Academy Public Charter School.
Authorities initially said four people were injured in the shooting. Sources initially told News4 that the girl was 9 years old.
This was the 83rd homicide in the District this year. A $25,000 reward is being offered for information that leads to an arrest in Wilson's death.