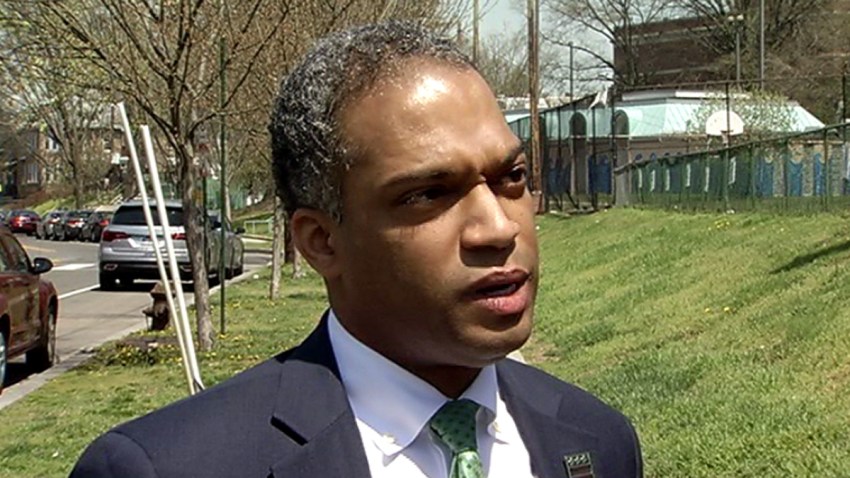 Ward 4 D.C. Council member Brandon Todd has a political mess on his hands. Somebody's been bad at accounting for tens of thousands of dollars in a campaign report.
A new audit from the Office of Campaign Finance is withering. The audit charges Todd's campaign — for the 2015 special election he won to replace Muriel Bowser on the council, not his most recent re-election bid — didn't properly document more than $69,000 in credit card deposits and failed to clear the record even after being asked.
The audit said the campaign — which totaled about $400,000 — understated receipts in some cases and overstated them in others. It charges that some expenditures were not reported and key financial summaries were misstated.
Politically, the audit is bad for Todd and his mentor, Mayor Muriel Bowser. Bowser picked Todd to run to replace her in Ward 4. Todd's campaign essentially was the same "Green Machine" that elected Bowser mayor. Businessman Ben Soto is treasurer for both Todd and Bowser.
On Monday, Todd spoke to News4. "Well, Tom, I take that audit — any audit — very seriously for my 2015 campaign account," he said. "We have begun to provide the Office of Campaign Finance with the documents they requested, and I am confident this will be resolved very quickly."
The auditors said the campaign has been slow to document responses to the audit.
Asked about Todd's campaign troubles, Mayor Bowser on Monday told News4 she was confident Todd would clear it up. And she stood by Soto when we asked if he would be her treasurer in the upcoming reelection campaign.
"Certainly. Ben has been my treasurer for five campaigns," she said. "And I am very confident in the work he has done for us."
■ Gray more "in" than "out." Now it is obvious, if not official: Vincent Gray is a candidate for mayor next year until he says he isn't.
At the initial budget hearing last week and his speech on the state of his Ward 7 council district, the former mayor was in campaign mode.
There may be no formal campaign announcement for many more months, but Gray walks, talks and acts like a 2018 candidate against incumbent Mayor Bowser.
"I have no plans at this stage to run. ... Anything could change, of course," he told us last week after he and Bowser clashed over health care east of the Anacostia River. Gray said "at this stage" three times. And, he smiled slyly.
A few days later, he gave his Ward 7 speech. Before the speech, The Washington Post's Paul Schwartzman reported, aides passed out a 30-page brochure laying out Gray's views on a host of citywide issues. The brochure also includes a half dozen pictures of, you guessed it, Gray.
In tone and ambition, Schwartzman wrote, "Gray's 'State of Ward 7' address Thursday had the tenor of a politician unwilling to discourage chatter he's eying a rematch against [Bowser], who defeated him in 2014."
The former mayor is still seething over his re-election loss in 2014, when then-U.S. Attorney Ronald Machen publicly left the impression 30 days before the primary that Gray was about to be indicted any day. Gray had been leading Bowser and a handful of other candidates. But after Machen's action, opposition to Gray coalesced around Bowser and carried her to victory.
Machen later left office without indicting Gray; no charges were ever brought against him, although more than a half dozen people involved did plead guilty. "He cost me the election," Gray says of Machen. Despite the polite public comments, those who have spoken with Gray in private say he curses Machen and resents how Bowser benefited.
Gray has a free shot at running for mayor. He would not have to give up his Ward 7 seat to run.
Bowser is expected to formally announce her re-election bid as early as this fall. We asked her last week if she were prepared for a Gray challenge. "I'm ready to run. Period," Bowser replied.
■ And Karl Racine? Watching on the sidelines of this face-off is the current attorney general, Karl Racine. He has been making the rounds assessing his own campaign for mayor. He told us on the WAMU Politics Hour that he likely would decide this summer whether to seek re-election as attorney general, return to private life, or seek "some other office." To translate for him, that's the mayor's office.
■ A final word. Former Ward 6 D.C. Council member Sharon Ambrose, 77, was praised for her commitment to the District during funeral services last week. She had a lifetime of civic involvement in schools, community and citywide issues.
She won a seat on the council in 1997 and served 10 years.
We first met Ambrose when she was chief of staff to then-Council member Betty Ann Kane. As a Washington Post reporter back then, we sat across from her in Kane's office as Ambrose encouraged us to actually read any pending legislation and check not only who was sponsoring it but who might be behind it.
Still good advice.
Tom Sherwood, a Southwest resident, is a political reporter for News 4.Todd, entangled…