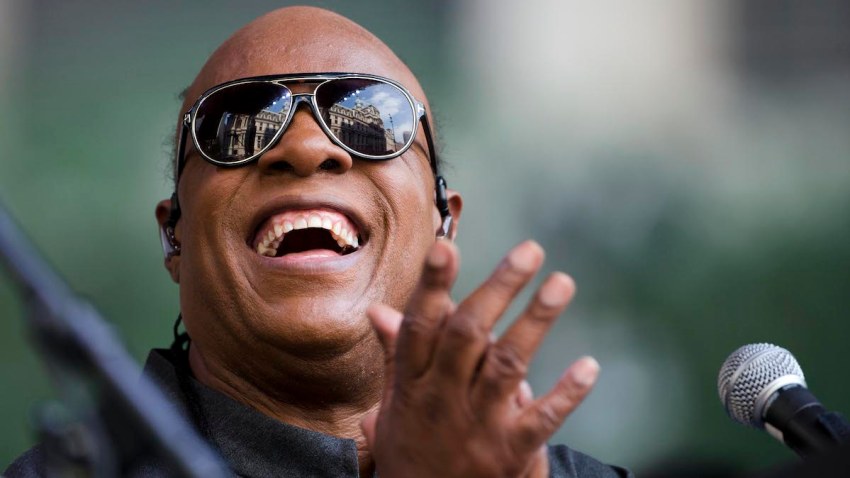 Say what you will about the month of August, there was a good reason to be out in the heat on Monday.
Legendary singer and social activist Stevie Wonder pulled off a "pop-up" concert that was publicized only a few hours before it began on East Capitol Street near RFK Stadium.
Social media lit up, and thousands high-tailed it to the site.
Wonder played a half-dozen-song set and took a few questions from the crowd. He urged everyone to vote and avowed that every person with a gun is responsible for what that gun does.
"It is true that guns do kill people," he said. "But without people using them, it wouldn't happen. Everyone is accountable for whatever bullet they shoot from any gun, wherever they do it."
But the social call to action was only part of the concert that had people — including Schools Chancellor Kaya Henderson — up and dancing. The pop-up event also was promoting Wonder's "Songs in the Key of Life" concert tour that stops at the Verizon Center Oct. 3.
Erik Moses, who runs the city's Events DC operation, said the city was given only 48 hours' notice of the concert and that Wonder's staff asked that it not be publicized until just before the event. Moses said there would have been 10,000 people had the word gotten out earlier.
Moses says he and Mayor Muriel Bowser are intent on erasing the city's image as a difficult, bureaucratic place to hold such events.
"If you're a brand, a musician or a promoter," Moses told NBC4, "we're going to help you do it."
■ Crime fears. One thing not helping the city's image is the recent spike in homicides. Mayor Bowser last week sent out a letter to District citizens reassuring them that she is concerned about it. Gunfire has claimed the lives of innocent bystanders whose only wrongdoing was that they were in the wrong place.
On Monday, Metropolitan Police Department Chief Cathy Lanier held her second news conference in a week to assert that police are aggressively reacting to the homicides.
Apart from the legitimate concern of the mayor and the chief, they also are anxious to be "seen" doing something. It's all very nervously similar to the news conferences of the 1990s when homicides topped 400 a year. The city is nowhere near that kind of violence, and the mayor personally and politically wants to make sure it never is.
■ Reports R Us. You can be sure of one thing in this world: Governments like to issue reports.
We now can add Mayor Bowser to that list.
Arriving in snail-mail boxes last week was a 14-page, glossy "6 Month Progress Report" of the still-new Bowser administration.
How much did this laudatory missive cost? How many were published? The mayor's office says about 80,000 reports were printed at a cost of about $40,000. "Transparency and accountability will be the hallmarks of this Administration," the report declares, "because the government belongs to our residents."
The report, not surprisingly, is long on praise.
And truth be told, even many critics of Bowser, or those who were just lukewarm on her, grudgingly acknowledge that she has seized the reins of government pretty well despite some bumps here and there.
A lot of the report naturally is table-setting for things to come. Some of the report acknowledges progress that had begun before her term started (like the overall fiscal health of the city and its government).
■ The Gray reports. When Mayor Vincent Gray was leaving office, his administration published a laudatory "final report" on his term in office. Although essentially jettisoned by the current administration, it lives on within the Mayor Vincent C. Gray (public figure) Facebook page.
Mayor Gray also had set up a bureaucratic system of publicly "grading" the various agencies. And his administration issued other reports on "sustainability" and related "One City" goals and achievements.
■ A final word. So many words have been and will be written about Julian Bond. But it won't be enough. Now, in the twilight of life for so many who made the Civil Rights Movement something worth capitalizing, Bond deserves our attention. He was not an infallible man, but he was an American who made making America better a life goal.
Just this past winter, he was sitting quietly with his wife, Pamela Horowitz, in the covered courtyard of the National Portrait Gallery/Smithsonian American Art Museum. The Notebook decided not to interrupt them and made our way to the nearby gift shop.
"What, you don't speak now?" It was Bond, standing at the gift shop door. As an Atlanta native and reporter for The Atlanta Constitution, we had shared a casual acquaintance with Bond over several decades, one that sporadically continued in Washington. But he always unfailingly was polite and on point whenever we happened to meet. When the Notebook joined them at the courtyard table, Bond launched into a description of his plan to travel the civil rights road of the Old South and said we should come. But we opted instead for Cuba.
The Notebook loved and never will regret the trip to Cuba, a country possibly emerging into its own new era. Yet now, we will regret not taking that Julian Bond trip.
---
Tom Sherwood, a Southwest resident, is a political reporter for News 4.