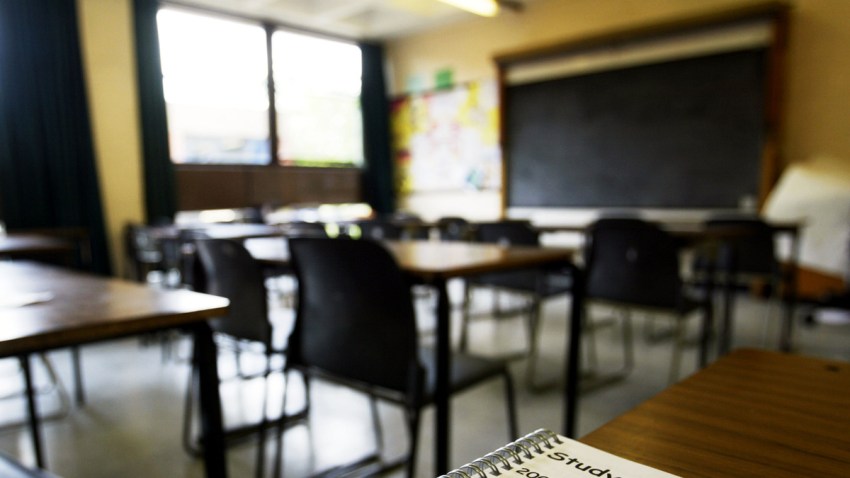 The Eastern High School auditorium was packed Monday night.
The Washington Teachers' Union was hosting an education forum on, we think, the future of education in our city.
We say, "we think," because the forum was chaotic, noisy and uninformative.
None of the teachers in that auditorium would put up for a minute in their classrooms with the rowdy behavior the teachers themselves displayed.
The format was quite simple. The union invited candidates for mayor to come answer questions about education. The event officially could not be advertised as a political debate, but that was the real intent.
For example, the Rev. Graylan Hagler asked a simple question: Did the candidates support continued mayoral control of the schools? The activist minister took his seat and waited on the answer.
Mayor Vincent Gray spoke with passion about how anything that was done ought to be done for the children. But he didn't answer the question. (We should just stipulate that every candidate wants to do what is "best for the children." It's a meaningless phrase if you really think about it.)
Ward 2 D.C. Council member Jack Evans had no problem answering whether he supports continued mayoral control of schools. He bluntly said he had voted for mayoral control and it was the right way to go because the schools had been failing for at least 15 years before that.
Many in the crowd hooted and jeered, but Evans stood his ground. He tried to use his remaining time to talk about why he felt that way, but the audience wouldn't let him.
When newcomer candidate Andy Shallal — owner of the popular Busboys and Poets restaurants — said he wouldn't close any schools, the crowd cheered. When he later defended tough teacher evaluations, he was jeered.
Candidate Tommy Wells, the Ward 6 council member, kept reminding the audience that his ward has a waiting list for its schools because parents have been part of the planning. He says as mayor he would make walkable schools available for every neighborhood in the city.
Christian Carter, the least known candidate and not an officeholder, won cheers as he attacked everyone else on the stage, as well as Chancellor Kaya Henderson and former Chancellor Michelle Rhee. Carter also stalked toward Gray as if he were going to directly challenge him. Gray tensed up, but didn't fall for responding to Carter's theatrics.
At-large Council member Vincent Orange kept to his script, that he'll educate everyone's child, getting them ready for college or the workforce. Newcomer Reta Jo Lewis got a bit tangled trying to answer a specific question on "excessed teachers," asking that it be repeated twice. It was another indication that she's an earnest candidate but lacks real knowledge about many local issues.
It was the third face-off of candidates early in this campaign for the April 1 primary. Ward 4 Council member and mayoral candidate Muriel Bowser didn't attend, citing a previous commitment.
Washington City Paper's Loose Lips columnist summed up the evening for the audience: grouchy. It was an unusually undisciplined forum for a professional educator's group. But one candidate muttered later that "it won't be the worst one" they attend. Let's hope that's not true.
■ A big embarrassment. This one isn't political like the forum. It was the horrendous 45-10 drubbing of the 'Skins by the Kansas City Chiefs on Sunday in the icy snow.
For NBC4, we rode into downtown Washington and into Alexandria looking for 'Skins fans to comment on the game, and the controversy surrounding coach Mike Shanahan. (If you don't know about the controversy, you don't have to read further.)
At the Sports Authority shop in Alexandria, customers were coming and going but no one — no one — had a good word to say about the 'Skins. One shopper, who said she was supposed to be at work, only allowed us to interview her as we held a Redskins' seat cushion up to hide her face.
Truth be told, she was hiding more because the 'Skins are so bad rather than fear of her boss.
---
Tom Sherwood, a Southwest resident, is a political reporter for News 4.