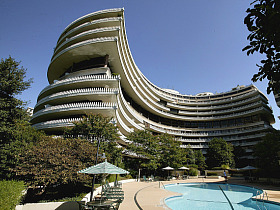 It is time to add the storied suffix "-gate" to the campaign finance scandal that has engulfed District politics for the past two years.
I suggest Thompson-gate.
Why?
Read on.
Wednesday, New York businessman Troy White pleaded guilty to failing to report to the IRS illicit revenue earned from orchestrating unsolicited campaign work.
This time, though, the shadow campaign in question wasn't to support a District politician. Charging documents show that White ran an off-the-books field operation for a presidential campaign in Texas and elsewhere during the 2008 primary season. The campaign in question is Hillary Clinton's, Clinton's campaign lawyer confirmed to the Associated Press. The Clinton campaign has also said that it cooperated with the investigation.
Prosecutors allege that the illegal campaign was funded by "Executive A."
Who is Executive A?
As with previous guilty pleas surrounding the ongoing probe into District campaigns and straw donations, Executive A is believed to be businessman Jeffrey Thompson. According to news accounts, lawyers familiar with the case have also identified Thompson as Executive A.
Thompson has not been charged with any crimes.
Legal documents in other cases indicate that a person matching Thompson's description funded the shadow campaign that supported Vince Gray's 2010 mayoral campaign.
So what does this all mean?
It is too early to say, but one thing is becoming clear: if Thompson was the funder of the Gray shadow campaign, that illicit effort was likely not his first.
It was also not his biggest.
Trying to influence the outcome of a mayoral election is one thing. And it is a bad thing. But it is nothing compared to an illegal effort to sway a presidential election.
Watergate was an illegal effort to influence a presidential election.
Thompson-gate gets more interesting and seemingly more complex with each new guilty plea.
Be patient.
And for sure, stay tuned...
Chuck Thies is a political, communications and advocacy consultant. From 1998 to 2010 his professional portfolio included District of Columbia politics. Chuck has worked on national projects and internationally in Europe, Africa, the Middle East , China and Mexico. If you are daring, follow him on twitter: @ChuckThies.