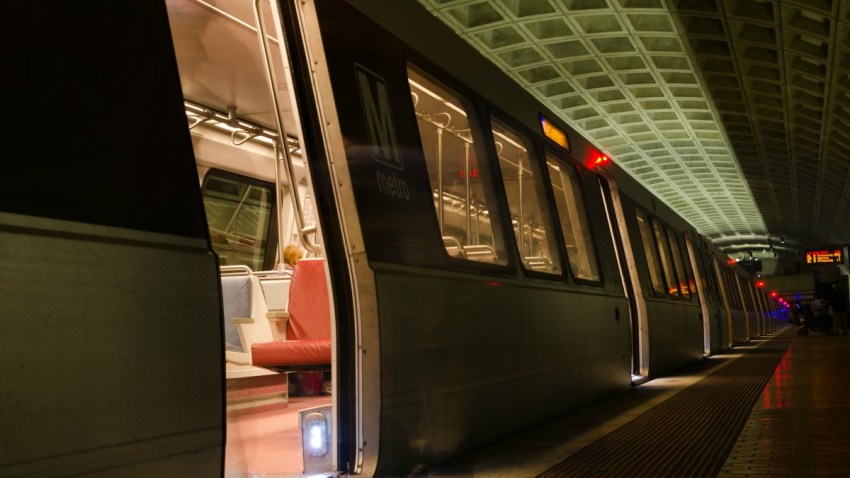 What to Know
On Saturday, Sunday, Sept. 10 and Sept. 11, buses will replace trains between Franconia-Springfield and Van Dorn Street.
Buses will replace trains between Franconia-Springfield and King Street Sept. 3 through Sept. 5.
The next phase of Metro's SafeTrack program began Saturday, with crews returning to Northern Virginia.
On weekdays, Blue Line trains are continuously single-tracking between the Franconia-Springfield and Van Dorn Street stations, now through Sept. 11.
There will also be longer intervals between Blue Line trains at affected stations:
Blue Line trains will run from Franconia-Springfield every 24 minutes.
Blue Line trains will run from Van Dorn Street every 12 minutes.
Riders who use the Franconia-Springfield or Van Dorn Street stations should consider travel alternatives, especially during rush hour, WMATA said. Riders who do take Metro should expect crowding on trains from Franconia-Springfield, WMATA said.
All other Blue Line stations have near-normal service.
However, there is no Rush+ Yellow Line service. Additional trains will run to and from Huntington instead.
Weekend shutdowns will occur at varying points along the Blue Line:
Sept. 3-5: between Franconia-Springfield and King Street. The Franconia-Springfield and Van Dorn Street stations will be closed.
Sept. 10-11: between Franconia-Springfield and Van Dorn Street. The Franconia-Springfield station will be closed.
Free shuttle buses replace trains along segments of the Blue Line on these weekends.
Safety Surge 8 will continue through Sept. 11.
Here are some ways to get around SafeTrack:
Metrobus, DASH Enhance Service
WMATA is encouraging riders to try to use buses as much as possible. To find a bus-only trip, use WMATA's online trip planner and choose the "bus only" option. See Metrobus timetables here.
Regular Metrobus fares are $1.75, and 85 cents for seniors and people with disabilities. Express bus fares and airport express routes cost more. Bus-to-bus transfers are free if you're using your SmarTrip card.
AT7 route connecting the Van Dorn, Eisenhower Avenue and King Street Metro stations westbound to Landmark Mall and eastbound to King Street Metro/Old Town/Lee Center.
AT5 route weekend connection between Van Dorn and Eisenhower Avenue Metro westbound to Landmark Mall/Van Dorn Metro and eastbound to Braddock Metro via Old Town.
Other Ways to Avoid Metrorail
In addition to taking the bus, here are more options for getting around without Metrorail:
Biking: The Washington Area Biking Association (@WABA) previously tweeted this Google map of D.C.-area trails, bike lanes and bike-friendly roads. Find information on the best bike routes along the Yellow Line corridor here. If you need to tune up your biking skills, check out WABA's classes on learning to ride and urban cycling online here. Need to rent a bike? Capital Bikeshare stations are located throughout the area; you can see rates or sign up here.
The Mount Vernon Trail also connects directly with the 14th Street and Memorial Bridges.
Car2Go or Zipcar: Get a short-term rental car from Car2Go or Zipcar.
Carpooling/Slugging: Drivers can use the I-95 and I-495 Express Lanes for free with three people in the car (but you'll need an Express Lanes E-ZPass Flex transponder). VDOT also recommends checking out Slug-Lines.com if you're interested in slugging ("casual" carpooling to meet HOV requirements).
Driving: Drivers should expect increased traffic and are encouraged to carpool or travel outside of peak periods if possible. If you must drive, leave yourself plenty of extra time to get around. In addition, D.C. has expanded parking restrictions during SafeTrack (find details here), and will have more traffic control officers on the streets.
Lyft and/or Uber: You might want to download a ride-hailing app like Lyft or Uber if you haven't already. Find the Lyft app here for either iPhone or Android, and the Uber app on iTunes here or on Google Play here. Uber says UberPOOL, in which passengers share cars, are available across the entire D.C. area through the year of SafeTrack.
VRE Train: VRE's Fredericksburg Line generally parallels the Blue Line, so many affected commuters can easily ride VRE from the Franconia-Springfield Station at the same location as the Metro station.
For those headed to Rosslyn or Courthouse Road, ride VRE to the Crystal City Station and transfer to ART Bus 43 or catch a Metrobus. The ART 43 bus stop closest to the Crystal City VRE Station is at the Transitway station at 18th Street Crystal Drive.
If you're going to the Pentagon, ride either VRE line to the Crystal City station and transfer to ART bus 92 or catch a Metrobus.
Riding VRE to the L'Enfant Plaza station and transferring to southbound Yellow line train may be an option.
In addition, all VRE trains go to Union Station in the mornings and start from there in the afternoons. In the morning and evening, later trains generally have lower ridership.
The cost of a VRE single trip ticket is more than a typical Metrorail ride, but there are discounted multi-use passes.