For months, the News4 I-Team has been investigating the fairness of Washington, D.C.'s skyrocketing Clean Rivers water fee, which charges customers based on the square footage of their property that's likely to create stormwater runoff.
Now, a new group of homeowners has contacted the I-Team saying they are being charged unfairly, forced to pay tens of thousands of dollars because the roads and sidewalks in their neighborhoods are considered private. The customers are particularly irate because most of the District's roads and sidewalks are exempt from those fees.
"I think that is unfair, that has to be fixed," said Rylan Harris, who lives in the Dakota Crossing townhome neighborhood in Northeast.
Harris knew his homeowner association had to pay for things like plowing and potholes on their private roads and sidewalks. But this year, DC Water also billed the HOA $40,000 in fees for its roads and sidewalks.
"I was flabbergasted," he said. "And there's no way for us to get around it because it's the only [water] service in town."
The townhome owners in his neighborhood already pay their own individual water bills, which include a Clean Rivers fee for the square footage of their properties' impervious areas, like their rooftops and patios.
Local
Washington, D.C., Maryland and Virginia local news, events and information
Now, they also contribute hundreds of dollars a month for the HOA's water bill. The HOA has no water service.
The money is going toward a massive government tunnel project. But the News4 I-Team found the government gets a break on thousands of miles of public streets, sidewalks, alleys and any other impervious surface that sits in a public right-of-way, because they are all exempt from Clean Rivers fees.
"I think that if D.C. doesn't pay for their roads then we shouldn't pay for ours," said Harris, whose community is not gated, so the streets and sidewalks are open to the public.
To make matters worse, DC Water treats the Dakota Crossing Homeowner Association as a corporation when calculating its impervious area, even though the neighborhood is zoned residential, Harris said. That commercial classification keeps the HOA from being eligible for a residential cap designed to lower costs for homeowners.
'It Potentially Could Bankrupt Us'
"This is painful," said Allan Holland. "It's just a huge increase for everyone."
Holland lives in the Capital Park condominium complex in Southwest. The neighborhood's Clean Rivers fees amount to nearly $8,000 each month and DC Water is expected to double that again by 2026.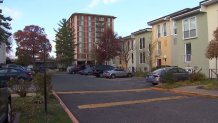 "We're all willing to pay our fair share. We know the infrastructure has to be built. Clean rivers is for everyone," said Holland. "But the manner in which it's being done -- it potentially could bankrupt us."
Many of his neighbors are retirees, on a fixed income. They moved there long before that fee existed.
The condo association even tried replacing a courtyard with grass and some of their sidewalks with porous pavers. The complex was engineered with green landscaping to lessen runoff, Holland said.
"They don't seem to appreciate or care that you've tried to mitigate this and not have runoff, but that doesn't seem to matter," he said. "It's just, 'We have a monetary goal to get to.'"
DC Water embarked on the $2.6 billion program to build underground tunnels to stop sewage and storm water from overflowing into our rivers. But the private homeowners argue water runoff from the District's public roads and sidewalks contributes more to that problem than they do.
The News4 I-Team asked DC Water how much money it was missing out on by offering the exemption for impervious areas contained within public rights-of-way. A DC Water spokesman said the dollar amount has not been calculated.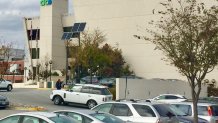 A $7 Million Per Month Break (Warning, Math Alert)
According to the District Department of Transportation, Washington, D.C., has:
1,392 linear miles of roadway
1,495 linear miles of sidewalks
358 linear miles of alleys
241 bridges
Some of those are listed as federal properties, which also fall under the public exemption.
DDOT could not provide the width or area of those surfaces, which would be used to calculate the Clean Rivers Impervious Area Charge.
The I-Team also attempted to determine the process by which the exemption for public roads and sidewalks was granted, by reviewing several years of meeting minutes, agendas, and questioning previous members of the DC Water Board.
No one we spoke with could recall the government specifically requesting the exemption and there appears to have been no discussion about how much it would cost DC Water.
Meeting minutes show a consultant told the DC Water Board that some other cities offer government streets and sidewalks an exemption, and that became part of the DC plan as well.
The District's Department of Energy and Environment maintains the list of impervious area DC Water uses to determine its fees.
DOEE records obtained by the I-Team show the impervious area in the public right-of way amounts to nearly 6,500 acres.
That would translate to about 280,000 Equivalent Residential Units (ERU), the measure DC Water uses to calculate the Clean Rivers charges.
The 2018 rate for collection is $25.18 per ERU, which would amount to more than $7 million that DC Water could be collecting per month but isn't.
Is There a Fix in the Works?
After a series of News4 I-Team reports this fall, Washington, D.C., Councilwoman Mary Cheh scheduled a public hearing on a number of water bill issues, including the growing fees for the Clean Rivers project.
In an interview with the I-Team, she said she'd also look at whether the District should be paying the fee for its roads and sidewalks, since the homeowners with private roads feel they're being treated unfairly.
"The only way is to broaden it, not to narrow it," said Cheh. "If they have impervious surfaces and they're contributing to the runoff, they're responsible for that property."
Cheh has already asked DC Water to see if some customers like churches and cemeteries, featured in earlier I-Team reports, are paying too much in Clean Rivers fees. Many of those are facing similar issues with private roads and parking lots.
"We'll figure out some way maybe to make these adjustments. But in the end, it's a big bill, and we have to pay it," said Cheh.
She worries if D.C. government starts paying for its public roads and sidewalks through tax dollars, those homeowners who live on private streets will essentially be paying twice.
And it isn't always the association that gets stuck with the bill.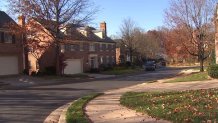 In the Spring Valley West neighborhood, it's individual homeowners, like Frank DeCicco.
"We own the middle of the road, all the way around. Plus the sidewalks, too," said DeCicco.
Each house in his neighborhood has a piece of road divvied up in front of it. He said he'd gladly give his piece of roadway and sidewalk to the city if he could.
"I don't think it would affect the value of the house," he chuckled.
But his $216 per month Clean Rivers fee is no laughing matter. He and his neighbors have paid more than $700,000 since the program started.
"I think that's pretty unfair. There should be some kind of fairness and equity," said DeCicco.
Allan Holland said with the fees growing exponentially every year, there's no way his neighbors can continue paying.
"It will eventually put everyone out of business, and you won't be able to pay it," he said. "You won't get anything from anyone if the place basically dissolves."
Reported by Jodie Fleischer, produced by Rick Yarborough, and shot and edited by Jeff Piper.