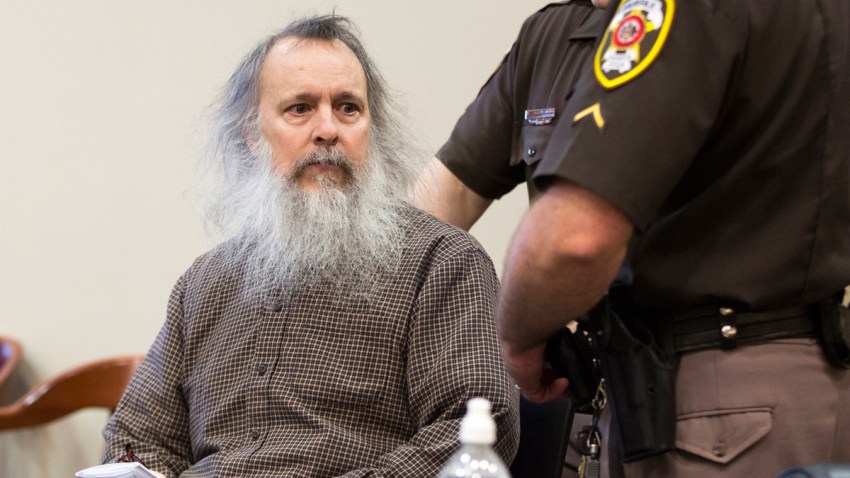 Prosecutors are working to make a connection between Charles Severance and a photo circulated just after the 2003 murder of Nancy Dunning, the wife of Alexandria's then-sheriff.
Severance is charged with killing Dunning in December 2003 and two other prominent residents a decade later. He is on trial in Fairfax County, where his triple-murder trial was moved.
Not long after Dunning's murder, Alexandria police released a photo taken from security cameras at the Target store in Alexandria's Potomac Yard shopping center. Dunning was shopping at the store shortly before she was killed in her home, and police believed the man who was there at the same time may have important information.
Prosecutors say a man seen right behind Dunning on a surveillance video played in court Friday was a much younger, dark-haired and clean-shaven Charles Severance.
With the FBI's help, they created side-by-side comparisons.
Video shows Dunning entering the Target about 10:15 a.m. Dec. 5, 2003, and the man enters soon after. It shows him bending down to tie his shoe as Dunning heads down an aisle, then the man goes the same direction. Just after Dunning checks out, the man can be seen not far behind. As she pushes her cart out of the store, the man is just feet behind her, empty handed.
Dunning was found shot three times a little more than an hour later after missing a lunch date with her son and husband, Sheriff Jim Dunning.
Defense attorneys tried hard before the trial to keep the Target images from being used. They say there is no way the man at Target could be Severance. When they begin presenting their case next week, they will introduce their own photos of Severance at that time that show a thinner man and they'll cite many other physical differences.
Prosecutors are also focusing on firearm evidence as they begin to wrap up their case.
A Virginia State trooper who arrested Severance in Rockingham County just months after Dunning's murder testified Friday. Severance was driving his red Ford Escort when he was pulled over for having expired plates and tags in February 2004.
The trooper testified he was just going to give Severance a ticket, but when he walked to the passenger side of the car he noticed spent casings on the floor.
He said Severance also appeared to be concealing something in his lap. It turned out there were three weapons in the car, including a .22 LR mini-revolver. That's the type of gun prosecutors believe was used to kill Dunning and the other two victims. But the weapons used in the murders have never been found. In the Rockingham County case, Severance was convicted of a felony for having concealed weapons without a permit, and the trooper testified once the case was adjudicated, the guns were destroyed.
Executives from two firearms companies were also on the witness stand. Kenyon Friel, the general manager for North American Arms, described the features of the .22 LR mini-revolver 5 shot. He said with a barrel as small as 1 1/8 inches, it is primarily a defensive weapon. Previous testimony revealed Severance's girlfriend purchased two of the weapons in 2012 at his urging. Those guns turned up missing after Severance left on a camping trip shortly before his arrest.
But on cross examination, defense attorneys underscored how common the mini revolver is across the country. North American Arms sold 70,000 between 2003 and 2013.
Prosecutors believe the killer used 22 subsonic, low velocity bullets to carry out the murders. A representative from Remington Arms, which makes the bullets, says they are chiefly used to hunt game. Their low velocity means they fire below the speed of sound so they don't make as much noise as other ammunition.
A box of the bullets was found in Severance's parents home in an area he used for storage. But again, the defense attorneys made it clear through their questions that 22 subsonic, low velocity bullets are so widely sold, Remington can't keep up with the demand for them.