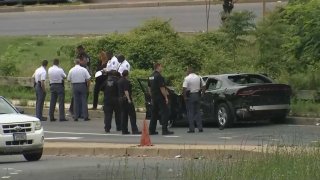 A suspect struck a police officer with a car in Temple Hills, Maryland, Wednesday, prompting another officer to fire at the car, authorities say.
Prince George's County Police Deputy Chief Anthony Schartner said a man called 911 in the morning to report someone broke into his car in D.C. and stole his wallet. A few hours later, his credit card company alerted him that his credit card was used at a business in the 4900 block of Beech Road in Temple Hills.
Two Prince George's County officers went to the location, Custom Car Kings, to investigate. As they walked up to the car shop, a garage door opened and a stolen black Dodge Charger came speeding out, striking one of the officers and flinging him over the hood of the car, Schartner said.
He has been discharged from an area hospital with minor injuries, Schartner said.
The second officer fired at the car, which took off speeding. He then got back into his cruiser to pursue the Charger, Schartner said.
Three suspects inside the car bailed out on foot in the area of Naylor Road and Suitland Parkway, police said. Officers arrested two of the men, but are still looking for the third man.
Officers used a stun gun on one of the suspects while taking him into custody and he was taken to an area hospital, Schartner said.
Local
Washington, D.C., Maryland and Virginia local news, events and information
The second suspect who was taken into custody suffered a medical emergency at the scene and was also taken to a hospital, police said.
Schartner said both suspects have minor injuries.
It is unclear at this time if the suspects are connected to the stolen credit card, Schartner said.
The officer who fired his weapon was placed on administrative leave.
Stay with News4 for more on this developing story