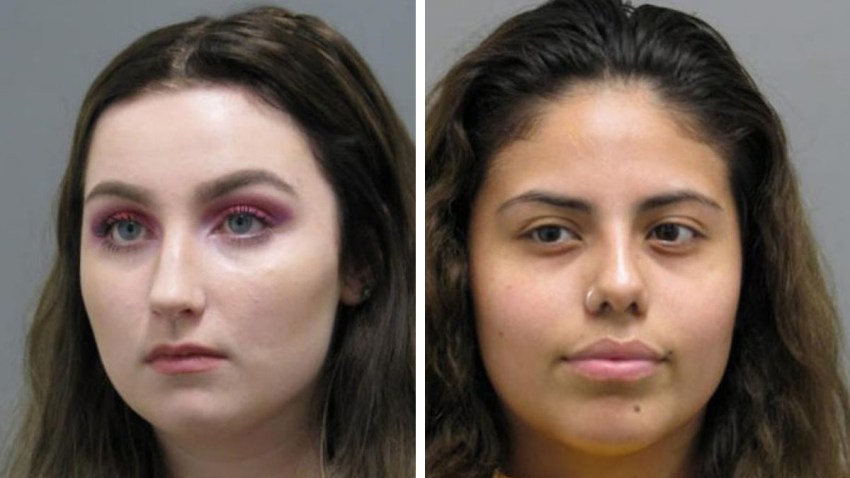 Two women kept puppies in "deplorable" conditions in a shed with no food or water, but told Craigslist buyers the sick and infected dogs were vaccinated and crate-trained, Virginia police say.
Prince William County animal control officers started receiving complaints in February from people who bought mixed-breed puppies on Craigslist. The ads for the puppies said the dogs were properly vaccinated and "farm raised," police said.
But several of the puppies' new owners quickly learned their dogs had worms and canine parvovirus, a highly contagious viral illness that can cause vomiting, diarrhea, weight loss and lack of appetite.
One puppy died as a result of the virus, police said.
Animal control officers opened an investigation and found that three suspects were bringing the puppies in from North Carolina to resell them, according to police.
Officers found the home of two of the suspects, 20-year-old Crystal Leeann Hoskins and 20-year-old Kamila Garcia Alban.
During a search of Hoskins and Garcia Alban's home on Reardon Lane in Woodbridge in May, officers found 11 puppies inside a shed on the property, police said. All of the puppies were heavily infested with worms and had urine and feces stains.
Police said the shed had no food or water and inadequate ventilation. Officers also found loose exposed electrical cords draped across the floor.
Police arrested Hoskins and Garcia Alban on Aug. 13 and charged them with obtaining money by false pretenses. They were released on bond.
The next day, officers obtained 11 more charges for animal cruelty against Hoskins, Garcia Alban and a third suspect, 20-year-old Elijzah Johnson of Waldorf, Maryland, but officers haven't been able to serve them warrants.
Hoskins is described ast a white woman who is 5 feet 4 inches, 190 pounds, with blue eyes and brown hair. Police described Garcia Alban as a white woman who is 5 feet 3 inches with brown eyes and black hair.
Police didn't have a description for Johnson.
All of the 11 puppies found in the shed have been treated and adopted, police said.
Editor's Note: This story previously reported that three women were wanted for animal cruelty. Two women and a third suspect later identified as a man were wanted.