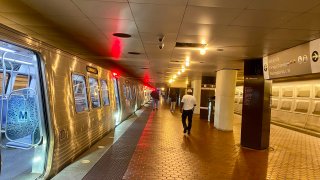 Someone was fatally struck by a Metro train at the Gallery Place/Chinatown station early Monday. According to a preliminary review of video footage, the person was "unsteady" before falling off the platform, Metro said.
D.C. Fire & EMS, Metro Transit Police and rail supervisors were called to respond shortly after 5:45 a.m. The victim was pronounced dead at the scene.
Trains bypassed Gallery Place and single-tracked during the emergency response. Service returned to normal by mid-morning but Metro said residual delays remained.
More details about the incident were not immediately available.
The victim's identity has not been released.