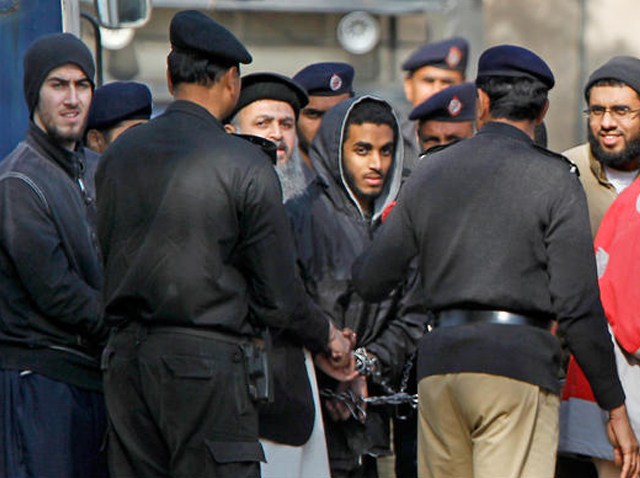 Prosecutors seeking to indict five Americans on terror-related offenses presented their case to a Pakistani judge Tuesday, laying out charges including waging war against Pakistan and plotting to attack the country, a defense attorney said.
The men, all young Muslims from the suburbs of Virginia, were arrested in December in Punjab province not long after reaching Pakistan. They had been reported missing by their families in November after one left behind a farewell video showing scenes of war and casualties and saying Muslims must be defended.
The men could be indicted on as many as seven charges during their next hearing on March 10, lawyer Hamid Malik told The Associated Press. The judge ordered the defense to review the prosecution report presented in the Sargodha town court and to prepare a rebuttal.
During past court hearings, the men have claimed they were tortured in prison, which is where they could spend the rest of their lives if found guilty, according to the BBC. Pakistan and the U.S. have denied the torture allegations.
Mustafa Abu Maryam, a youth co-ordinator at the men's neighbourhood mosque, told the BBC what has happened to the five students is "jaw-dropping."
"But we have to stay strong and see what we can do to prevent other youth from taking a view that is radical and extreme."
Pakistani police have publicly made several accusations against the young men, claiming the suspects contacted Pakistani-based jihadi groups. But their lawyers say they were heading to Afghanistan and had no plans to stage attacks inside Pakistan.
During a court appearance in January, the men, aged 19 to 25, denied that they had ties with al-Qaida or other militant groups, said their attorney, Ameer Abdullah Rokri.
"They told the court that they did not have any plan to carry out any terrorist act inside or outside Pakistan," said Rokri. "They said that they only intended to travel to Afghanistan to help their Muslim brothers who are in trouble, who are bleeding and who are being victimized by Western forces."
Rokri did not say whether the men planned to fight coalition troops in Afghanistan or simply provide humanitarian assistance. But one of the men indicated they had planned to wage holy war.
"We are not terrorists," Ramy Zamzam told The Associated Press as he entered the courtroom in January. "We are jihadists, and jihad is not terrorism."
The U.S. has pressed an often-reluctant Pakistan to crack down on militants on its territory, many of whom are believed involved in attacks on American and NATO forces across the border in Afghanistan. At the same time, several recent cases have highlighted incidences of Americans signing up to join the insurgents on both sides of the border.
Copyright AP - Associated Press