Less than 24 hours after Senate Majority Leader Mitch McConnell silenced Sen. Elizabeth Warren during a Senate debate on the nomination of Jeff Sessions for U.S. attorney general, McConnell's words have become a rally cry and a business opportunity for savvy entrepreneurs.
The online marketplace Etsy is awash with shirts, mugs, jewelry, bags and more printed with part of what McConnell said Warren did: "Nevertheless, she persisted."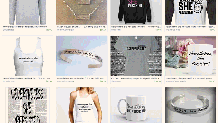 The phrase was part of McConnell's explanation for why Warren, a Massachusetts Democrat, was silenced when she read part of a letter written by Coretta Scott King, widow of civil rights icon Martin Luther King Jr. The letter called Sessions "a disgrace to the Justice Department."
More than 200 items emblazoned with the phrase were listed on Etsy as of Wednesday evening.
One of the sellers, Sierra Koepfle of St. Helens, Oregon, is selling a mug decorated with the phrase in cursive and the colorful silhouette of a woman. She said the item was a symbol of resistance.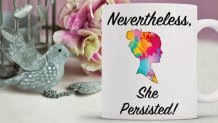 "I'm extremely agitated that us as women have taken five steps back from where we were," she said about why she made the design. "I've been in a situation where I've been shunned by men. I've worked in male-dominated industries and, unfortunately, the man still has the upper hand. And I'm so thankful that women are standing up and they are making statements."
Local
Washington, D.C., Maryland and Virginia local news, events and information
Koepfle said she sold more than a dozen of the mugs in just four hours.
She admitted the popularity of the phrase is a good marketing opportunity, but said she doesn't see herself as cashing in on the latest political drama.
"I see it as a statement piece," she said.
Koepfle starting selling mugs and other items on Etsy to help pay off her student loans.
Other sellers, Liza Purcell and Hallie Willis, of Laurinburg, North Carolina, are printing T-shirts bearing the phrase. They started selling political shirts after they printed their own to wear to the Women's March on Washington in January.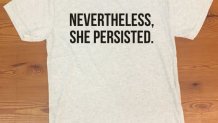 "With this shirt in particular, we wanted to show our support for Sen. Warren," Purcell said.
Purcell said she and Willis only make shirts they would want to wear.
"Sure, this is a business, but we're only producing things we really believe in," she said. They listed their shirt Wednesday afternoon and have sold at least seven, she said.
As Warren spoke on Tuesday night, McConnell invoked Rule 19 of the Senate, which prevents senators from attacking the character of other senators.
"Sen. Warren was giving a lengthy speech. She had appeared to violate the rule. She was warned. She was given an explanation," he said. "Nevertheless, she persisted."
The Senate confirmed Sen. Jeff Sessions, an Alabama Republican, to be attorney general in a 52-47 vote Wednesday night.