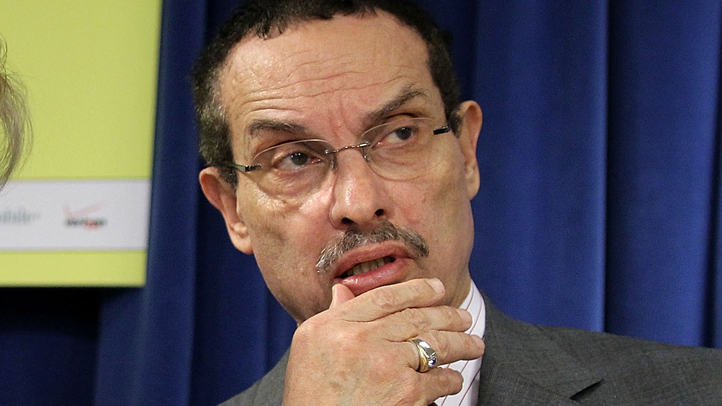 As expected, the D.C. Council passed a bill at its marathon meeting Tuesday that would allow residents to vote to amend the city charter to give the District budget autonomy.
The D.C. budget is currently tied to the federal budget process and the District needs approval from Congress to enact its budget for local revenue.
But while D.C. leaders have long advocated for such autonomy, there was one important politico who wasn't all for the bill: Mayor Vincent Gray. (And D.C. Del. Eleanor Holmes Norton opposes the bill as well.)
Earlier in the day, Gray sent an eight-page letter to council members repeating his concerns about the legality of such a referendum.
As you know, I fully and passionately support the goal of securing budget autonomy for the District of Columbia as soon as possible. I know that the Council generally shares this view, and I applaud the Councilmembers for focusing on this critical issue. Indeed, I have been diligently working with the federal leaders to achieve this goal through congressional legislation.

At the same time, I take very seriously my obligation to help ensure that the District Government complies with the governing law. After close study by the OAG and senior lawyers in my administration, I am doubtful that Congress has delegated the power to the District to convert unilaterally the role played by Congress and the President in the District's budget from active participation to passive review. I am concerned about whether the bill if enacted would violate a number of provisions in the HRA and in Title 31 of the U.S. Code, which governs the process and rules for the budget enacted by Congress and carries civil and criminal penalties for violation.
Because D.C. leaders have been unable to get Congress to make any real progress on passing a bill to grant budget autonomy, the idea behind the bill is that a charter amendment would circumvent Congress and leave the matter to voters. If Congress objects, then it would have to pass legislation signed off by the president that would squash it. But people like U.S. Rep. Tom Davis of Virginia—who supports the budget autonomy bill—say such action is unlikely.
In October, two lawyers formerly involved in D.C. government wrote an op-ed in the Washington Post—which Gray cited in his letter—explaining why they thought such a proposal was illegal.
Essentially, the District is seeking to replace affirmative congressional review of its local budget (meaning that Congress must act to pass legislation approving the budget) with passive review (meaning the local budget becomes law unless Congress takes action to disapprove it). But Congress understood that overturning D.C. Council legislation under passive review — entailing diverting Congress from pressing national issues, expending scarce legislative time and resources to educate members about D.C. matters, winning majorities in both houses of Congress and obtaining the president's sign-on — is a cumbersome process. Indeed, Congress has rarely overturned council legislation during the almost four decades of home rule. It is absurd to think that Congress gave the District the power to make its budget acts subject only to passive review, especially when such a change itself would be subject only to passive review.
The Council will vote on the bill on second read next week and the referendum vote would be held on the already scheduled April 23 special election.
IN OTHER NEWS:
* White House party crasher works to crash Virginia gubernatorial vote
* A wrap-up of D.C. marathon 12-hour council meeting
* The D.C. Council meeting game that's all the rage: Mendo Bingo
* Marion Barry tweets the meeting; "This council needs an intervention. This whole damn city needs an intervention. We are so divided its sad and ugly and sickening"
* Should all D.C. residents pays to help Bloomingdale flood victims?
* Uber is now legal in D.C.
* Mayor Gray rips council over spending
* Report: D.C. stinks at getting residents hired for construction jobs
* O'Malley to talk transportation and other issues with legislators Thursday
Greg Halls lawyer asks judge to force O'Malley to appoint Hall to empty delegate seat