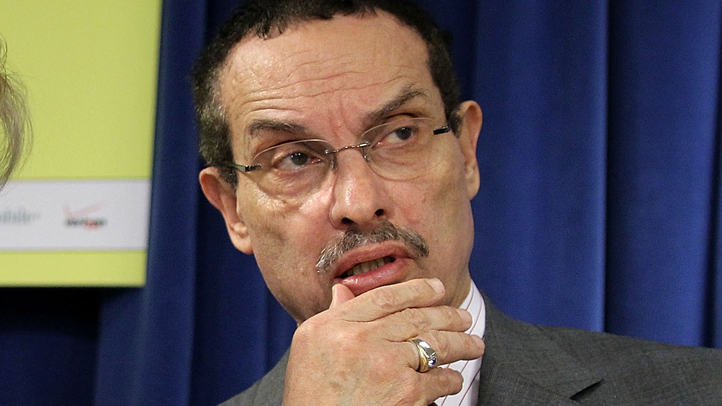 Mayor Gray delivered his annual State of the District Tuesday night at Sixth & I Historic Synagogue, stressing the financial health of D.C. and the need for it to diversify its economy and become less dependent on the federal government.
The Mayor touted the city's recently announced $417 million surplus from fiscal year 2012 and said the city is on track for additional surpluses in the coming quarters.
One of the big announcements Mayor Gray made during his speech was his proposal to invest $100 million in building and preserving 10,000 units of affordable housing. This will be funding from the expected revenue bump city officials expect to see in 2013.
He did not go into details, but said he wanted to give raises to city employees, many of whom have not seen pay increases in nearly seven years.
Tonight, I am proposing that we make this right, by giving raises and reaching new work agreements updated to meet the demands of a 21st -century government and a 21st-century workforce.
Gray also proposed the establishment of the One City Fund—a $15 million investment that would allow non-profits to compete openly and transparently for one-year grants of up to $100,000.
He called the District's current contracting rules "byzantine" and said he would tackle procurement reforms. His didn't lay out specifics, but said his reform proposals would streamline the Districts purchasing and contracting practices, in part, by eliminating confusing and outdated rules.
Mayor Gray will travel to Qatar this year to seek foreign investors.
Read the full speech here
IN OTHER NEWS
* The Virginia House speaker is expected to use a procedural move to kill the GOP's controversial redistricting plan. (Washington Post)
* Gov. O'Malley's strict gun control legislation is dividing members of his own party. The governor is scheduled to testify for the first time about his proposals today and is hoping to win over some of the more conservative Democrats in his party. (Washington Post)
* Meanwhile, an anti-gun rally outside the Maryland State House is expected to draw more than 3,000 people while O'Malley is testifying. (Capital Gazette)
* Rep. Darrell Issa said he would work to include language to "unlink the District's budget from the congressional appropriations process in any continuing resolution to fund the government through fiscal 2013." (Roll Call)
* The House passed Gov. McDonnell's transportation plan Tuesday that would replace the gas tax with an increase in the sales tax to pay for roads. (Washington Post)
* Lt. Gov. Bill Bolling stuck with his party Tuesday and sided with Republicans in his many tiebreaking votes. Among them: A bill that would grade schools on an A-F scale, a bill that would create a state entity to take over failing schools, and bills that called for strict voter ID requirements. (Washington Post)
* The Virginia Senate voted Tuesday along party lines to require Virginians to bring a photo ID to the polls. This bill was amended so it will not go into effect until 2014. (Washington Examiner)

* Conservative columnist Jennifer Rubin says that Cuccinelli is undermining the Virginia transportation plan. (Washington Post)
* The Virginia General Assembly passed a bill Tuesday that would put a two-year moratorium on the use of drones by state and local law enforcement, making it the first state (assuming McDonnell signs the legislation) to enact drone regulations. (US News & World Report)
* Va. Republicans passed a measure calling for a $17,000 study into an alternative currency "in the event of a major breakdown of the Federal Reserve System." (Washington Examiner)
* A D.C. councilmember says it should be illegal to cheat on standardized tests (Washington Post)
* D.C. Council members are working to keep the FBI headquarters in city lines. (Washington Examiner)