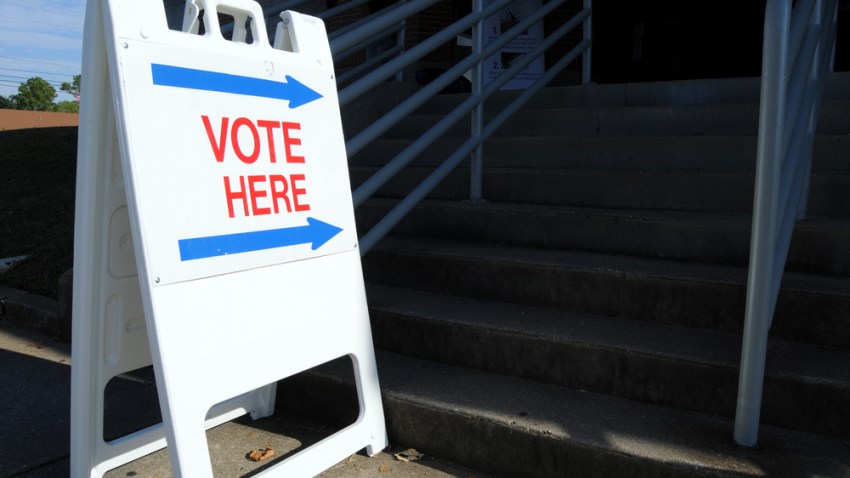 It's Special Election Day in D.C., when voters in the District will cast their ballots to choose among six candidates vying for the at-large council seat -- and decide whether to pass a referendum to support allowing the District to spend its $6 billion a year in local funding without Congressional approval.
Here are some handy Election Day resources:
Know where you're supposed to vote? Type in your home address here, and the Board of Elections will provide you with your polling location. (There have been a few last minutes location changes, which can be found here.)
Polls are open from 7 a.m. to 8 p.m today.
What to bring: You do not need to bring an ID to vote in the District, but some polling locations may ask for one to enter the facility, so if you have an ID you should bring it to be safe.

But if you are registering to vote at the polls today, you will need to provide proof of residence. Acceptable forms of proof of residence include a valid photo ID with your name and address on it, copy of a current utility bill (not a cell phone bill), bank statement, government check, paycheck or any other government document that shows your name and address.
Before you enter that voting booth, News4's Tom Sherwood and Mark Segraves have this helpful guide to who's on the ballot and how you can learn more about each candidate.
Happy voting, D.C.!
IN OTHER NEWS:
* Left-leaning bloggers Jonathan Chait and Matt Yglesias tell their Twitter followers to vote for Republican Patrick Mara in today's special election. (Twitter)
* The Washington Post editorial board endorses Patrick Mara…for the fourth time this cycle. (Washington Post)
* The at-large candidates weigh in on the potential D.C. United stadium proposal. (DCist)
* Mike DeBonis breaks down the details of the 2,894 votes that have already been cast during early voting and the 6,669 absentee ballots requested. (Washington Post)
* At-large candidate Elissa Silverman releases her email exchange with fellow candidate Matthew Frumin to show that she didn't explicitly say she would support him in a future race if he dropped out, but in the emails she says she would be "happy to support and endorse" Frumin if he "decided on a run in Ward 3 or if another seat opened up." (Washington Post)
* New bike lanes coming to Petworth (Housing Complex)
* Virginia winery and a commodity exchange in China have agreed on a five-year wine export deal. (News4)
* Virginia Democrats are demanding that Attorney General Ken Cuccinelli appoint an outside investigator to determine whether he properly disclosed his relationship with the company Star Scientific. (Washington Examiner)
* On a trade mission to Israel and Jordan, Maryland Gov. Martin O'Malley presented a RGIII jersey to a Knesset member. (Washington Post)
* Junior Republican delegates in Maryland are leading a movement to replace Maryland GOP House Minority Leader Tony O'Donnell and Minority Whip Jeannie Haddaway-Riccio. (Maryland Reporter)