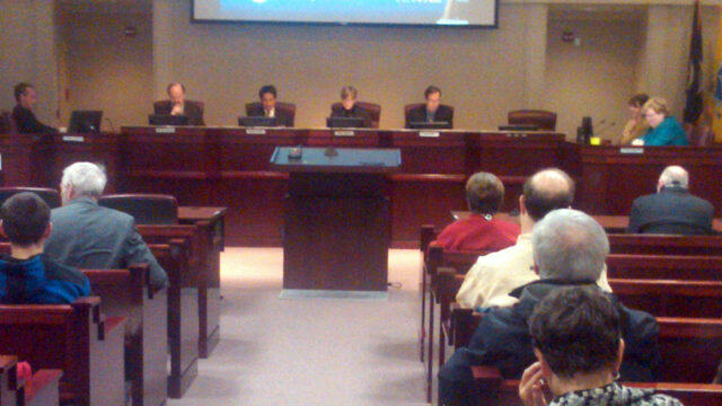 Keeping with county tradition, the Arlington County Board held its first meeting of the year on Jan. 1 and, as expected, unanimously elected J. Walter Tejada to serve as its chairman. Tejada was first elected to the Board in 2003 and served as its chairman in 2008. He was vice-chair in 2007 and 2012. Jay Fisette will serve as vice-chair for 2013.
Tejada introduced his 2013 agenda at Tuesday's meeting—Moving Forward Together—and, for the most part, it seems pretty status quo for local government, focusing on four areas: Affordable housing, fitness and health, urban agriculture and pedestrian and bike safety.
The urban agriculture component could be in interesting. Early in 2012, Tejada announced an urban agriculture agenda that included an initiative that would move toward loosening up zoning restrictions so residents could keep hens in their backyard. This gained some media attention at the time and could be a part of his agenda once again.
The lone disagreement among the 5-member, all Democratic board seemed to be the Columbia Pike streetcar line—a county plan that calls for five-miles of a streetcar line extending from Pentagon City to Fairfax County. Tejada is in favor of the streetcar, but board member Libby Garvey continued to express her opposition to the project in her remarks Tuesday. "A streetcar will not connect seamlessly to other jurisdictions' systems, but will, I believe, impede traffic along one of the most heavily used roads in Virginia. And it will do this at an exorbitant cost: probably around $200M more than an effective and attractive alternative that exists, and which our neighboring jurisdictions are pursuing: a Bus Rapid Transit system."
Under the plan, Arlington and Fairfax Countys would pick up 56 percent of the cost of the line—or $137.7 million—and state and federal governments would pick up the rest. The line would cost another $6.3 million a year to operate.
Read Tejada's New Year's Day remarks here

IN OTHER NEWS:
* McDonnell approves new Virginia abortion clinic rules

* New laws that went into effect in Maryland and Virginia Jan. 1

* McDonnell's statement on the 150th anniversary of the Emancipation Proclamation

* O'Malley criticizes Republicans over "fiscal cliff" debacle

* Virginia Chamber supports McDonnell's education agenda
* GW submits plan for 900-bed residence hall in Foggy Bottom

* The DMV top ten transportation stories in 2012

* D.C.'s first Lowe's eyeing location in Northeast
* Construction project agitates Bethesda residents, businesses