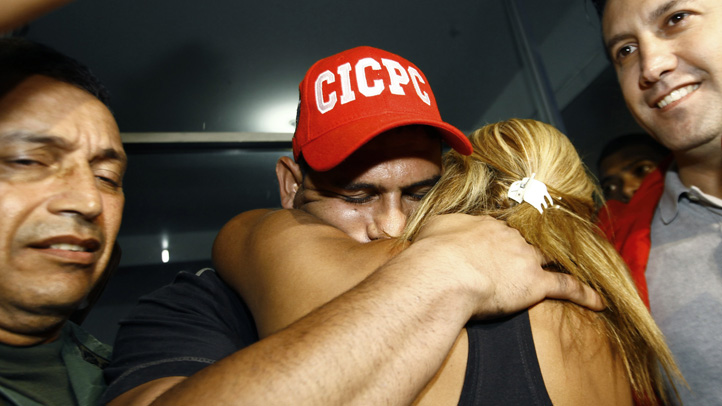 Wilson Ramos, the Washington Nationals catcher who was kidnapped and then rescued in his native Venezuela, plans to play winter ball in his homeland despite his ordeal.
Ramos, who spent two days in captivity and in fear for his life before police rescued him, intends to suit up for a Venezuelan baseball team on Wednesday, according to Mid-Atlantic Sports Network. Ramos' representative, Marfa Mata, tweeted that the ballplayer will make his winter debut on Wednesday and intends to play in at least a few games to show the fans his appreciation for their support during his abduction.
He'll suit up for the Tigres de Aragua in the Venezuelan Professional Baseball League, in a game against Caracas, which features Nationals pitchers Henry Rodriguez and Josh Wilkie.
Ramos, 24, was seized at gunpoint outside his mother's home in Valencia last Wednesday. Investigators soon found the kidnappers' stolen Chevrolet abandoned in the town of Bejuma alongside the mountains of central Carabobo state.
That led them to a rural house that had been used in a previous kidnapping, where they found an SUV with mud on it even though there was no mud in the area, said Venezuela's justice minister, Tareck El Aissami. Investigators suspected the SUV was being used to ferry supplies to another spot nearby, and eventually determined the house was probably being used by the kidnappers as a support base.
Teams searched the nearby area Friday and finally located me upon the remote house where Ramos was being held. They rescued Ramos in a fierce gun battle.
"I didn't know if I was going to get out of it alive," Ramos told reporters. "It was very hard for me. It was very hard for my family."
Ramos became the Nationals' starting catcher last season, batting .267 with 15 homers and 52 RBIs.