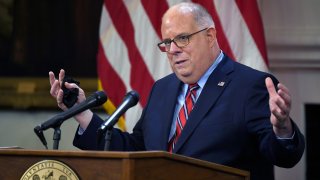 Maryland Gov. Larry Hogan says all businesses can reopen when phase three of the state's reopening plan goes into effect at 5 p.m. on Friday.
Hogan announced the update during a news conference Tuesday afternoon.
Movie theaters and live entertainment venues can open at 50% capacity or up to 100 people indoors or 250 people outdoors with appropriate health and safety guidelines in place, Hogan said.
Stay informed about local news and weather in the D.C. area. Get the NBC4 Washington app for iOS or Android and pick your alerts.
Retail businesses and houses of worship can increase their capacity from 50 to 75%.
Individual counties can still decide their own timing for implementing phase three or make decisions that are more restrictive, Hogan said.
Montgomery County Executive Marc Elrich said in a statement the county is reviewing the phase three guidelines before it makes a decision.
Local
Washington, D.C., Maryland and Virginia local news, events and information
"Today's announcement that the State is moving to Phase 3 on Friday has again taken us by surprise. Although I want to see our community open as quickly as possible, we also must proceed with care," Elrich said. "We will continue to follow the data and science in Montgomery County, as we have done every day throughout the pandemic."
Elrich said Montgomery County is averaging about 70 cases per day, but saw 97 cases on Monday.
"Those numbers are concerning because they're higher than they were a few weeks ago. Because we did not receive advance notice of the Governor's decision, we need time to review the Governor's orders to determine the best way forward. We will do this over the next few days to determine the best way to move forward for our residents and businesses while protecting the public health."
Executive Calvin Ball said Howard County will move forward with phase three of Hogan's plan.
"Howard County has seen significant progress in reducing our positivity rate, increasing our testing capacity, and reducing hospitalizations since June," Ball said. "We will move forward with the modified plan the Governor laid out this evening but encourage our residents to still tread lightly. We are still very much in a public health crisis, and these relaxed restrictions do not mean we should let our guard down. In order to maintain our steady progress, we must continue individual preventative measures – like washing our hands, wearing masks, and physically distancing."
It is not yet clear what other jurisdictions in the D.C. area will do.
"I want to remind the people of Maryland that moving into Stage 3 does not mean that this crisis is behind us and remind them that we must remain vigilant so that we can keep Maryland open for business," Hogan said.
The governor said the state has continued to see declining numbers in key health metrics. Maryland's statewide positivity rate is down to 3.39%, Hogan said.
"While it is absolutely critical to remain vigilant as we battle this deadly virus, it is also important that we continue to fight to protect and improve our economy and the health of our small business community and our struggling Maryland families by continuing to push to safely reopen our economy and to get more people safely back to work," Hogan said.
Maryland also has seen nearly a 30% decline in intensive care unit levels since July 25.
"In just the last month alone, our statewide case rate per 100,000 has dropped by 45%," Hogan said.
He said the majority of those who have tested positive for the virus since mid July, 41%, had been to a family gathering. Nineteen percent of positive cases had attended house parties or outdoor events, he said.
"We tend to feel safe when we're around our family and friends and, in fact, that's when we let our guard down," Hogan said.
Hogan also thanked the Maryland State Board of Education for voting to require school systems that have not developed a plan for returning any students for in-person instruction until 2021 to reevaluate their reopening plans by the end of the first quarter.
Last week, the governor announced that, as a result of improved COVID-19 health metrics, every county school system in Maryland is authorized to begin safely reopening but made clear that the legal authority and final decision on safe openings rests with county boards of education.
The Maryland State Board of Elections has told the administration that absentee ballot applications have been mailed out to all state voters.
Hogan also said more than 11,000 residents have stepped forward to serve as election judges.
"We continue to strongly encourage Marylanders to take advantage of voting by absentee ballot or to participate in early voting," Hogan said.
Stay with News4 and NBCWashington.com for updates to this developing story.