Tens of thousands of people streamed into Washington, D.C., amid heat and humidity Saturday for what might have been the capital's largest protests yet against racism, police violence and the killing of George Floyd.
Video from Chopper4 showed a massive crowd extending for blocks leading up to the White House in the evening.
An estimated 100,000 to 200,000 protesters were expected in D.C., Army Secretary Ryan McCarthy said.
By nightfall, crowds had thinned out, but a large gathering remained near the White House. People could be seen congregating in small clusters and going to food trucks.
After days of protests that included many tense moments with police, Saturday's atmosphere at times appeared more like that of a festival or summer block party.
Go-go music blared through the streets, impromptu dance parties popped up and people used chalk to write messages in the streets.
Local
Washington, D.C., Maryland and Virginia local news, events and information
As of 9:30 p.m., D.C. police said they had made no arrests and protests remained peaceful.
Near the National Museum of African American History and Culture, a crowd bowed their heads in prayer for justice in the United States.
"Evil will remain if good people don't take a stand. We are here today to take a stand," a speaker said.
Many protesters urged participants to vote with their signs and messages. Rev. Al Sharpton said earlier this week he's organizing a March on Washington for late August to energize voters ahead of the presidential election.
On Black Lives Matter Plaza, which Mayor Muriel Bowser created Friday near the White House, the atmosphere was festive. Protesters were chanting, dancing and holding handmade signs on two blocks where the city had "Black Lives Matter" written on the street Friday in huge yellow letters. The words span from curb to curb.
A heavy military presence surrounded the crowd, which included many families.
Photos: Thousands of Protesters Gathered for Saturday Demonstrations in DC
Many of the loosely organized groups moved toward the White House, where President Donald Trump was spending the day with no public events. The president remained behind closed doors, the faint sound of protesters likely audible in the distance.
One group of thousands of protesters chanted obscenities at Attorney General William Barr and the Department of Justice as they passed the FBI and Justice Department buildings. With hands raised in the air, many chanted "Hands up, don't shoot."
The crowd erupted in applause as D.C.'s mayor walked along 16th Street.
Thousands of people chanting "Black Lives Matter" walked over the Memorial Bridge from Arlington to the Lincoln Memorial. The line of marchers stretched for miles, News4's Tracee Wilkins reported.
In Maryland, protesters marched from National Harbor onto the Woodrow Wilson Bridge, which crosses the Potomac River. Chopper4 footage showed people streaming across the pedestrian section of the bridge, which spans more than a mile.
Protests in Frederick, Maryland, caused rolling road closures in the evening and Maryland State Police blocked demonstrators from entering I-70.
Near the Lincoln Memorial, a crowd of peaceful protesters watched powerful speeches.
"What you must understand is that our anger and grief does not just stem from George Floyd's horrendous murder. It is a byproduct of the unanswered genocides of countless black and brown human beings," a young man said into a megaphone. A diverse crowd quietly listened and filmed him.
About 3,000 people were at the Lincoln Memorial at noon, D.C. police said. Another 3,000 people were at 16th and I streets NW, north of the White House. Additional crowd estimates were not immediately released.
On the steps of the Lincoln Memorial, a mother spoke with her young son about why they were protesting.
"People are gonna protest until things change," the mom said.
"What if that's until I'm 10?" the boy asked.
"As you get older and older, if things don't change, it's going to be up to you to help make them change," she replied as the child surveyed the crowd.
Black Lives Matter Plaza was peaceful Saturday morning. People were taking selfies, not shouting, News4's Derrick Ward reported. Military vehicles and officers in fatigues closed off much of downtown to traffic.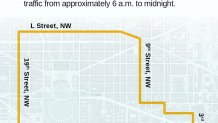 Temperatures climbed into the 90s Saturday afternoon with thick humidity.
The fire department urged protesters to take extra precautions to remain safe, including staying hydrated. Cooling stations with drinking water were planned.
The fire department increased staffing as they prepared for an estimated 50,000 to 100,000 protesters.
Washington has seen daily protests for the past week — largely peaceful, with people marching back and forth from the White House to the Capitol and the Lincoln Memorial.
In general, demonstrations in the U.S. have shifted to a calmer tenor in recent days after frequent episodes of violence in the early stages. Protesters and their supporters in public office say they are determined to turn the extraordinary outpouring of anger and grief into change, notably in regard to policing policies.
Democrats in Congress are preparing a sweeping package of police reforms, which are expected to included changes to police-accountability laws, such as revising immunity provisions and creating a database of police use-of-force incidents. Revamped training requirements are planned, too, among them a ban on chokeholds.
The House is expected to vote by month's end. With Democrats in the majority, the bills will almost certainly pass the House. The outcome in the Senate is less certain. Republican Majority Leader Mitch McConnell has said the chamber would look at the issues, but he has not endorsed any particular legislation.
In Floyd's North Carolina hometown on Saturday, mourners held a private memorial service.
The Associated Press contributed reporting.