Law enforcement in Washington, D.C., are beefing up security ahead of a rally planned for Saturday. Go here for breaking news, updates and livestreams during the rally.
Here's what to know.
What is the Justice for J6 rally?
The rally is in support of hundreds of people arrested and charged with violently storming the Capitol riot on Jan. 6.
We're making it easier for you to find stories that matter with our new newsletter — The 4Front. Sign up here and get news that is important for you to your inbox.
Between 550 and 600 people face federal charges in connection to that day, including both misdemeanors and felonies.
How many people will attend the rally?
About 700 people are expected to attend, a Department of Homeland Security official told NBC News.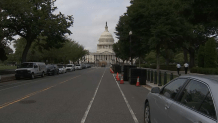 When and where is the Justice for J6 rally?
Local
Washington, D.C., Maryland and Virginia local news, events and information
The rally is set to go from noon until 1:15 p.m. Saturday in Washington, D.C.'s Union Square. That's roughly a block west of the Capitol grounds.
What will happen at the Justice for J6 rally?
Speakers for the rally have not yet been announced.
Organizers asked attendees not to wear overtly political clothing or clothes that support a specific politician.
Will there be counterprotests?
There are at least three different groups planning counterprotests, U.S. Capitol Police Chief Thomas Manger said at a news conference Friday
Manger said potential violence between those counter demonstrators and the rally participants is a big concern for his department. One of the three counterprotest groups has had a history of clashes, he said. He did not specify or say the name of the group.
The Good Trouble Cooperative has invited people to a competing demonstration at Freedom Plaza from noon to 4 p.m.
The intent is to "uplift our communities and provide a gathering place for everyone who rejects fascism," the organization said.
How are police preparing?
Both the Metropolitan Police Department and the U.S. Capitol Police say they'll have "all hands on deck" — and already canceled officers' vacations.
"We're not taking any chances," Manger said Friday.
D.C. police assets will also be put in the neighborhood that houses the District's jail.
Capitol Police have requested the National Guard respond if tensions rise.
What other security measures will be in place?
A tall fence reinforced with concrete barriers has been installed around the Capitol grounds, as well as the Supreme Court building. New surveillance cameras were also seen on the Hill.
The rally's organizer told attendees that it has its own security and that anyone causing conflict should be reported.
The following items are prohibited on Capitol grounds, including the rally site, according to Capitol Police: firearms, replica firearms, knives, mace or pepper spray, ammunition, explosives and fireworks, open flame and alcohol.
Are there known security threats?
Manger said there has been "chatter" about potential threats or violence at the rally.
"It's tough to say whether they're credible or not. We don't know with any certainty, but what we do know is that this chatter that we heard prior to January 6 obviously turned out to be," Manger said.
D.C. Deputy Mayor for Public Safety Chris Geldart told News4 that there are some calls for people to arrive armed.
"This is reminding folks that come to the District what our laws are here and that, you know, you can't carry a gun here," Geldart said.
Far-right extremist groups like the Proud Boys and Oath Keepers planned to attend the rally, the Associated Press reported. But high-level members of the Proud Boys said the group isn't going, according to NBC News.
Users on some extremist or far-right forums encouraged people not to attend Saturday's rally, claiming without evidence that the rally is a set-up for law enforcement to arrest attendees, NBC News reported.
How do security measures compare to Jan. 6?
Officials say they're not taking any chances after the insurrection and other recent incidents near the Capitol.
Manger indicated that online chatter about potential violence is being taken very seriously, regardless of how credible it's considered.
The National Guard plus multiple police agencies, including those from Maryland and Virginia, are ready to assist D.C. and Capitol Police if needed. Officers from area police departments have been deputized, including those from Arlington, Fairfax and Montgomery counties.
Saturday's rally is also expected to be much smaller, attracting a few hundred protesters instead of the tens of thousands seen on Jan. 6.
After Jan. 6 attack on the Capitol by President Donald Trump's supporters, fencing went up around the entire Capitol complex and beyond—blocking roads and access to neighborhoods.
Unlike after Jan. 6, when there were two rows of fencing and razor wire, just one row of fencing and no razor wire stands around the Capitol.
There are also additional measures like temporary surveillance cameras.
What road closures will be in place?
D.C. Police said several road closures will be in place, in addition to parking restrictions.
Emergency parking restrictions will be in place Saturday, Sept. 18, from 5 a.m. to 11:59 p.m. on the following streets:
3rd Street, from Constitution Avenue, NW to Independence Avenue, SW
Constitution Avenue, from 3rd Street, NW to Louisiana Avenue, NW
Pennsylvania Avenue, from Constitution Avenue, NW to 3rd Street, NW
Maryland Avenue, from Independence Avenue, SW to 3rd Street, SW
I Street, from 15th Street, NW to 17th Street, NW
H Street, from 15th Street, NW to 17th Street, NW
17th Street, from Constitution Avenue, NW to L Street, NW (west side of Farragut Square)
17th Street from I Street, NW to K Street, NW (east side of Farragut Square)
15th Street from Constitution Avenue, NW to L Street, NW (east side of McPherson Square)
15th Street from I Street to K Street, NW (west side of McPherson Square)
Connecticut Avenue from H Street, NW to L Street, NW
Vermont Avenue from H Street, NW to L Street, NW
Street closures will be in place Saturday, Sept. 18, from 5 a.m. to 11:59 p.m. on the following streets:
3rd Street, NW from Constitution Avenue, NW from Independence Avenue, SW
Pennsylvania Avenue, NW from Constitution Avenue, NW to 3rd Street, NW
Madison Drive, NW from 4th Street, SW to 3rd Street, NW
Jefferson Drive, SW from 4th Street, SW to 3rd Street, SW
Maryland Avenue, SW from Independence Avenue, SW to 3rd Street, SW