When a man tumbled down an embankment and landed in a creek, a young man from D.C. leaped into action to help.
Malcolm Hicks, 21, was walking near a bridge at South Capitol Street and Southern Avenue, near the D.C.-Maryland border, about 6:30 p.m. Sunday when he said he saw a man tumble down a hill. With temperatures in the 40s, the man landed in a trash-filled stream.
"The first thing that clicked in my head was 'I got to help this man,'" Hicks recalled on Monday.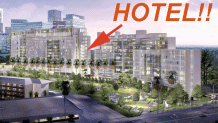 He and another person reached underwater to pull up the man.
"He was heavy," Hicks said.
Then, he performed CPR, mimicking how he had seen it done in movies.
Local
Washington, D.C., Maryland and Virginia local news, events and information
The man spit up water and opened his eyes, Hicks said.
His girlfriend, Jalisa Smith, said she was proud of him. She heard what was happening by phone.
"I think he's a hero, and I really think people should get their props for stuff like that," she said.
D.C. Fire and EMS Department spokesman Vito Maggiolo thanked Hicks and spoke with him about his interest in joining the department.
"Certainly, anybody who comes to the assistance of a fellow citizen, we do appreciate that. Our only word of caution is, don't put yourself in danger," Maggiolo said.
Once Hicks and the other person helped the man who fell into the creek, medics used a basket and ropes to pull him up the embankment. The man was treated for hypothermia and injuries, and is expected to be OK.
Hicks said he would come to the rescue all over again.
"If I see someone needing help, I'm going to help," he said.