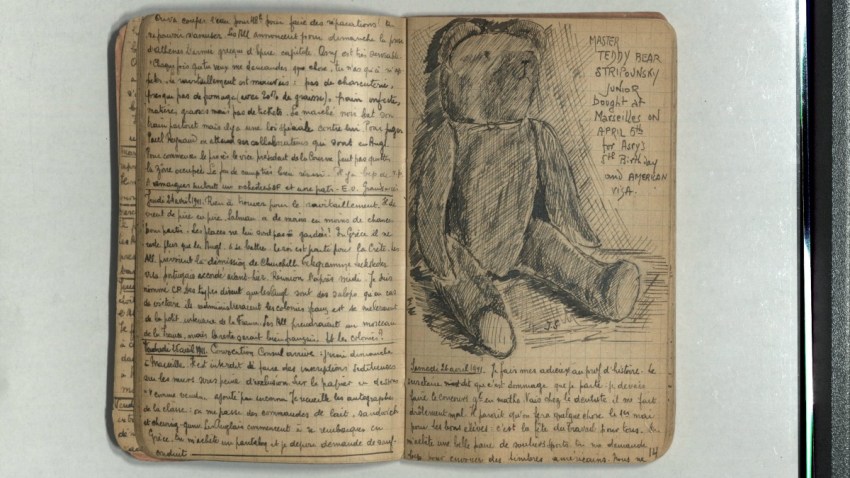 Joseph Strip's diary isn't typical.
It contains hand-drawn, colored maps charting his family's perilous journey from Belgium through France, detailing their escape from the Nazis to their immigration to the United States.
Strip's is one of more than 200 Holocaust diaries that the Holocaust Museum hopes to catalogue, digitize and make public with its first-ever Kickstarter campaign, called #SaveTheirStories.
They launched the crowdfunding effort Monday, Anne Frank's birthday, with the goal of raising $250,000 in 31 days. They've raised $56,209 from 1,019 donors so far.
"When you talk about 6 million, it's unfortunately easy to forget it's one person at a time," said Dana Weinstein, the museum's director of audience engagement and membership. "Each one of those individuals deserve to have their voice, their story, their name, when we have a name, be known."
The diaries are written in 17 different languages. Each has unique handwriting, abbreviations and length, making for an arduous translation process, said Kyra Schuster, the project's curator.
Only three of them, including Strip's journal, will be translated into English if the museum reaches its fundraising goal. The other two belong to Lucien Dreyfus, a journalist and teacher who perished in Auschwitz, and Hans Vogel, a refugee child who traveled through multiple countries before immigrating to the U.S.
Once the museum hits its initial $250,000 goal, it hopes to raise another $100,000. This will power the translation of 27 additional diaries written by refugees during WWII, categorized under what Schuster calls "escape and immigration."
"The world is experiencing the largest refugee crisis since WWII," Schuster said. "These diaries are particularly resonant today."
The museum is in a race against time with this project and others because the "eyewitness generation" will soon pass on, Weinstein said. She hopes to record as many of the authors' stories as possible.
"When we don't have the firsthand stories that accompany them [the diaries], they're missing the full context," Weinstein said.
The story behind one of the collection's diaries, for example, will never be known. Lusia Hornstein, a woman who fought with the Polish underground in Warsaw, recovered a diary written by her friend Debora after she was killed by a bomb in 1944. Hornstein's family donated Debora's diary to the museum after her death.
Debora's story, including her last name, remains a mystery.
"We understand people have reluctance to part with these precious materials," Schuster said. "Let us talk to you and take down your information so your history is not lost when you're no longer here to tell us that story."
Donors can contribute any amount online and receive rewards including decals, journals, plaques and t-shirts.