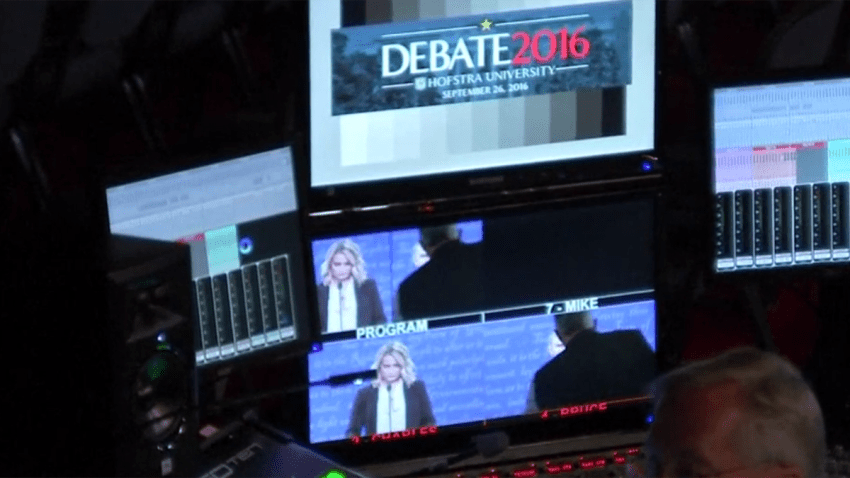 Presidential candidates Donald Trump and Hillary Clinton will come face-to-face Monday night for the first presidential debate.
You don't want to miss the conversation moderated by NBC's Lester Holt, so why not make it fun?
Head to these D.C. venues on debate night for food, drink and politics:
Open City DC
Open City's Woodley Park location will host debate bingo starting at 9 p.m. $5 wings will be served, and the bingo grand prize is a $50 gift card. There will also be a happy hour drafts.
Busboys and Poets (14th & V)
Not only will Busboys and Poets host a watch party, but there will be a panel discussion following a viewing called "Debunking the Presidential Debate." Panelists Bill Ayers, Jared Ball, Medea Benjamin, and Fatemah Keshavarz will discuss the oddities of this election cycle.
Ventnor Sports Cafe
Come enjoy the debate, bingo and pub fare at this restaurant which take a break from sports and trivia for the night. According to their Facebook page, representatives from various breweries will give out prizes and giveaways during the event.
Bar Pilar
Sip a "Split the Party" cocktail as you watch the debate and enjoy debate bingo. While you're at it, submit an original cocktail recipe devoted to your favorite candidate, complete with a catchy name, for the chance to have it featured at the bar.
Boqueria
Watch the debate and enjoy unlimited tapas with Boqueria's "Big Talk, Small Plates" event. For $45 a person, you can enjoy every presidential (and vice presidential) debate this season while eating Spanish cuisine. Space is limited, so make a reservation in advance.
Pennsylvania 6
You can enjoy extended happy hour every presidential (and vice presidential) debate at Pennsylvania 6, which will extend its happy hour from 9 to 10:30 p.m on debate nights. Watch the debate while eating $1 Chesapeake Bay oysters and $7 red and white wines.
Lincoln
Where better to watch the presidential debate than in a restaurant named after a Founding Father? Enjoy election-themed cocktails and food, such as the Trump Steak Bites or the Clinton BBQ Sliders, which are $5 apiece. Lincoln will host parties for each debate this season.
The Ugly Mug
You can test your knowledge of political trivia before the debate at The Ugly Mug. The quick-fire trivia compeition kicks off at 7 p.m. on the restaurant's newly opened second floor. At 8 p.m., the night continues with more games, prizes and political bingo. The watch party will be hosted by D.C. Comedian Ralph Cooper and runs until 10:30 p.m.
Shaw's Tavern
Half-priced pizzas and drinking games await you at this debate watch party. The party goes from 8 p.m. until 11 p.m., but you may want to reserve your table ahead of time to avoid losing a spot.
Penn Social
Want to watch the debate on the big screen? Head over to Penn Social to view the candidates on their 22 foot projector screen. Due to high demand, they will not be taking reservations. Look out for drink specials on their Facebook event page.
Capitol Lounge
The debate will come to life at Capitol Lounge thanks to Clinton and Trump impersonators! Capitol Lounge will also offer "Red vs Blue" beer specials and multiple televisions with full sound.
Nellie's Sports Bar
Enjoy $15 buckets of Bud Light products while watching the debate at Nellie's viewing party from 9 to 11 p.m.
Human Rights Campaign of Greater Washington
The Human Rights Campaign of Greater Washington is holding its watch party at Number Nine in Northwest Washington. Get there early to take advance of the Federal Club Happy Hour that precedes the event.
D.C. for Hillary
Join D.C. for Hillary at Sign of the Whale to watch the debate. This event is free to attend, but you can also RSVP on their website.
Network For Progress Debate Watch Party
Network for Progress (N4P) hopes to bring together supporters of Hillary Clinton and Bernie Sanders at their watch party at Local 16. The networking program will begin at 7 p.m., and a raffle will follow. Herb Smith, the District's state director for Hillary For America, will speak. Tickets are $10 at the door with no RSVP. And while most early bird tickets are sold out, you can try reserve a spot here.