D.C. police have charged a security guard at a Giant grocery store with simple assault after a transgender woman said the guard forced her out of the women's restroom.
Ebony Belcher, 32, said she went to the Giant in northeast D.C. with a friend to pick up a delivery from the Western Union.
While at the Giant, she asked a store employee to point her to the restroom and passed a female security officer standing in the hallway.
The officer came into the restroom and told her to get out, according to Belcher.
"She opened the door and came in and started calling me derogatory names," Belcher said.
She said the officer put her hand on her shoulder and arm, grabbed her and pushed her out of the store.
Belcher said the guard told her, "You guys cannot keep coming in here and using our women's restroom. They did not pass the law yet."
Local
Washington, D.C., Maryland and Virginia local news, events and information
She said she called police and reported the incident after she left the store. According to a police report, officers arrested the guard at the Giant after the confrontation.
Belcher said she suffers from Parkinson's disease and almost fell while the officer was shoving her.
The guard, who has not been identified, is a special police officer at a Giant store near Third and H streets in northeast D.C.
Giant issued a statement, which read: "As this matter involves a third party that provides security services for Giant and there's an ongoing criminal investigation, all inquiries related to the incident at the H Street Giant should be directed to the local police for a comment at this time."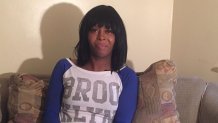 President Obama recently issued a directive to public schools that transgender students must be allowed to use the bathroom of their choice.
A controversial law in North Carolina has also brought the issue to the forefront. The law says transgender people must use public bathrooms, showers and changing rooms that correspond to the sex on their birth certificate. The Justice Department has sued North Carolina, saying the law violates civil rights laws.