The fatal shooting at Great Mills High School ended when the shooter killed himself as a school resource officer simultaneously shot him in the hand, police said.
Police released a timeline and several 911 call recordings about Tuesday's shooting, in which police say 17-year-old Austin Wyatt Rollins injured one student and killed his ex-girlfriend, 16-year-old Jaelynn Willey.
Rollins arrived at school about 7:50 a.m., police said. Police say he walked through the main entrance of the school carrying a handgun legally owned by his father.
Five minutes after entering the school, Rollins approached Willey in the hallway and shot her once in the head. Desmond Barnes, 14, was struck in the back of his thigh by the same bullet, police said.
Willey fell to the floor. Barnes went into a classroom to seek shelter and call 911, police said.
"I was just shot in my school," Barnes told the dispatcher.
The dispatcher said, "I'm sorry?"
"I was just shot in my school," Barnes said.
Police released the audio from Barnes' call and two others on Monday.
"There's a girl outside my door bleeding on the ground," one caller, who identified herself as a teacher, told a dispatcher as she hid in her classroom with eleven students.
"I honestly didn't even realize it was a gunshot," she said. "It sounded like one of those, like, plastic bags that someone popped but it was so loud."
Rollins made his way down the hall and encountered deputy Blaine Gaskill, the school's resource officer, according to a map released by police.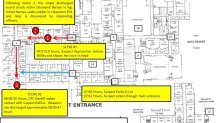 Gaskill fired and hit Rollins' weapon. At the same time, Rollins turned his gun on himself and fired one fatal shot to his head, police said.
Local
Washington, D.C., Maryland and Virginia local news, events and information
A student witness of the shooting said a police officer tried to order a student with a gun to his head to disarm before two shots were fired.
Student Isiah Tichenor told The Washington Post he saw a fellow student hold a gun to his head Tuesday and heard a police officer shout an order to put the gun down.
Willey was taken to UM Prince George's Hospital Center, where she died on Friday. Barnes was hospitalized and released.
School Shooting Incidents Since 2013
Everytown.org defines the incidents mapped below as any time a firearm discharges a live round inside or into a school building or on or onto a school campus or grounds, as documented by the press and, when necessary, confirmed through further inquiries with law enforcement or school officials. Incidents in which guns were brought into schools but not discharged are not included.
Source: Everytown.org, NBC Staff Reports
Last updated on Nov. 14, 2019
Rollins "had a prior relationship which recently ended" with Willey, the sheriff's office said.
"All indications suggest the shooting was not a random act of violence," the statement said.
The investigation has not yet revealed any threats from Rollins.
Willey was one of nine siblings, according to a statement from the family, and a member of the swim team. She was a role model to her brothers and sisters, her family said, and helped to take care of them every day.
The handgun that the Rollins allegedly used was legally owned by his father, the St. Mary's County Sheriff's Office said in a statement issued Wednesday afternoon. However, it appeared Rollins possessed it illegally. In Maryland, a person must be 21 to possess a handgun, unless carrying one is required for employment.
Attempts to reach Rollins' family were unsuccessful.
One of the shooter's friends, 14-year-old Jordan Hutchinson, and his mother dropped off a condolence card at the Rollins home.
Jordan recalled meeting Austin five years ago during a snowstorm, and building snow forts together.
"Austin was a nice kid. We did sleepovers all the time," he said.
Great Mills High will be closed for more than a week and a half, after the school's scheduled spring break. Classes will resume April 2, the principal said in an online notice to families.
"Words cannot express the sadness and grief that our school community is feeling right now. I know that we are shaken and scared after today's events and will struggle for some time trying to make sense of it all. I do not know exactly how, but we will find a way to overcome this tragedy," the notice said. "Now more than ever, we need to stand together as a school community to love, cherish, and support one another. We have and we will continue to stay strong, stay together, and find a way to get through this."
Counseling services are being offered.
Before they return to class, many students participated in Saturday's March for Our Lives in D.C. Hundreds of thousands of people attended the demonstration, which was organized after the Feb. 14 shooting at Marjory Stoneman Douglas High School in Florida that left 17 students and staff members dead.
"We need to be the last group this ever happens to, and we're all just very tight, and we're family, and as you can see in the chants, we are Great Mills," said Heidi Ransford, a recent graduate of Great Mills High School who knew Willey.
Copyright AP - Associated Press