What to Know
The National Mall has been the home for DC's Fourth of July celebrations for decades
President Trump has said this year's fireworks are moving to West Potomac Park and that he'll be giving a speech
DC officials are in charge of the logistics but say they're still waiting for details from Trump administration
With just over a month to go, D.C. leaders say they still don't know many of the details about what or where the city's Fourth of July events will be because they're still waiting on information from the federal government.
The National Mall has been the home of the District's Fourth of July celebrations for decades, attracting hundreds of thousands of people each year for fireworks centered around the Washington Monument.
D.C. also has multiple parades each year on July Fourth, including along Constitution Avenue, and an annual concert on the West Lawn of the U.S. Capitol. The annual fireworks show is broadcast by PBS.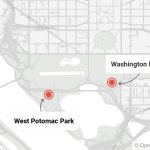 But this year, the fireworks could be moved to West Potomac Park, about two miles away.
The Trump administration is working on major changes to the event, but so far D.C. Mayor Muriel Bowser and the head of Metro — who are responsible for much of the logistics and support for the event — say they're still waiting on details from the federal government.
But they have been told there will be big changes this year.
Bowser said President Donald Trump is expected to give a speech and the location of the fireworks will move.
"The latest that we've heard is that there will be a speech. And the location of the fireworks will be moved. We don't have the fine details of the plan yet," Bowser said.
The general manager of Metro, Paul Wiedefeld, says the transit agency is also waiting for more details from the federal government.
"We're all working through this right now. We will adjust. There are a lot of events throughout the year. We will adjust, but right now it has not been finalized," Wiedefeld said.
Bowser said because President Trump plans to speak to the crowds, her agencies are preparing for more road closures than on a typical July Fourth, as well as the likelihood that there will be protesters. That could require more police officers.
"The chief will work and figure out if he needs to call in additional aid from surrounding jurisdictions," she said.
The Department of the Interior also weighed in, saying that, along with the National Park Service, it is working to expand public access on the National Mall to allow for greater participation in Fourth of July festivities.
"One consideration for the Fourth of July celebration is to change the location for the fireworks launch, so more people have the ability to access the robust display. We continue to work to ensure the success of the event and to execute the vision of President Trump," the Department of the Interior said.