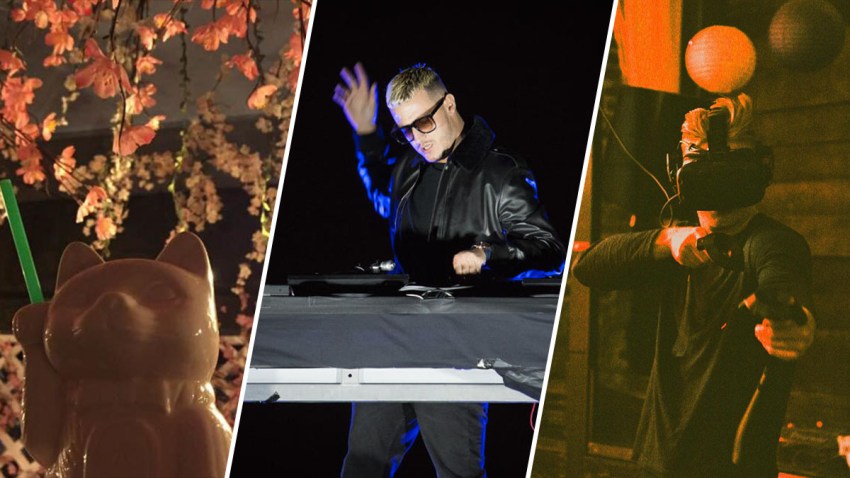 March has come in like a lion, and there's so many ways to get out this weekend.
Note: As possibly dangerous weather persists, check that these events will go on as scheduled.
Bye winter, hello spring
The first trees have flowered around the city, the pop-up bar is open and peak bloom dates have been announced. If it weren't for #Windmageddon, we'd call springtime.
All weekend (Shaw): The Cherry Blossom Pop-Up Bar is back, and the atmosphere is on point. You'll feel like you're in a delightful garden the entire time. The bar is open all weekend, but you might want to line up early to get a spot. Take a first look here:
Saturday, 11 a.m./3 p.m. and Sunday, 11 a.m. (Foggy Bottom): Learn to make your own Cherry Blossom flower crown at the Watergate Hotel.
Saturday and Sunday (Woodley Park): The National Zoo celebrates its 129th birthday Friday (although it's closed due to the weather). Saturday and Sunday are a good time to check out the pandas, especially since Mei Xiang just might be pregnant!
Sunday, 10 a.m. to 7 p.m. (Georgetown): Say goodbye to winter with $2 off ice skating at The Washington Harbor. There will also be free hot chocolate starting at 2 p.m.
Check out new (or your favorite) music
DJ Snake, Jeezy, Little Big Town, Rodriguez and more artists are in town this weekend. Here's our roundup:
Celebrate female and/or African-American arts and history
Friday and Saturday, 10 p.m. to 5 p.m. (Brentwood, Md.): The Prince George's African American Museum and Cultural Center recently launched a new exhibit, "The Elements that Define Us." Twenty-two African-American artists from the D.C. area have work on display.
Saturday, 3 p.m. to 5:30 p.m. (Gallery Place): The Smithsonian American Art Museum hosts a free screening of a documentary made by an American University professor. "Who Does She Think She Is?" is about five women who are both artists and mothers, the event site says.
Sunday, 12 p.m. to 5 p.m.: The National Museum of Women in the Arts hosts a free community day, with a free tour beginning at 1 p.m.
Sunday, 2 p.m. to 5 p.m. (Anacostia): For $1.50, you can get a guided tour of Frederick Douglass' former house. The abolitionist leader's 200th birthday just passed.
Games and sports abound
Friday, 8 p.m. (Chinatown): The Washington Wizards are facing off against the Toronto Raptors at Capital One Arena. Nosebleeds seats are going for about $20. Word is, the girls who brought home Team USA's gold medal in Olympics hockey will be attending.
Saturday, 2 p.m. (Shaw): Virtual reality bar Augment Arcade is hosting a day of virtual reality experiences. Only patrons 21 or over may enjoy the event, which costs $60 an hour for VIP reservations or $30 for all-day general admission. Here's our first look at the bar: [[453447923, C]]
Sunday, 2 p.m. (Mount Vernon): Short films and sporty fashion will be on display at BicycleSPACE Downtown.
Sunday, 6 p.m. (Chinatown): The Washington Wizards are playing against the Indiana Pacers at Capital One Arena. Tickets are going for as little as $11.
Watch the Oscars in style
Sunday (Various locations): Bravo Bravo, the W Hotel and Ventnor Sports Cafe are among the spots in D.C. hosting watch parties for the Academy Awards this Sunday.