More than 300,000 federal employees in non-defense agencies live in D.C., Maryland and Virginia, and on Thursday many of those workers were anxious about their futures.
President Donald Trump released his first proposed budget on Thursday, seeking dramatic cuts to domestic programs and the size of the federal workforce in order to finance a significant increase in the military.
Trump's plan would cut 3,200 jobs at the Environmental Protection Agency alone.
Outside EPA headquarters on Thursday, employees said they were worried.
"I think everyone's just kind of in shock that this is reality right now," Caitlin Lea said.
Employee Albert Monroe spoke about the harm the cuts would do to the agency's mission.
"It would be absolutely devastating for the environment, devastating for the government and devastating for the entire world," he said.
Local
Washington, D.C., Maryland and Virginia local news, events and information
Trump's proposed budget, titled "America First: A Budget Blueprint to Make America Great Again," emphasizes national security and public safety.
"The core of my first Budget Blueprint is the rebuilding of our Nation's military without adding to our Federal deficit. There is a $54 billion increase in defense spending in 2018 that is offset by targeted reductions elsewhere," the document says.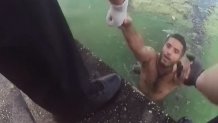 The cuts would have significant effects in the D.C. area, where the federal government is the largest employer.
At the EPA, thousands of employees are now in limbo, said Diane Lynne, the president of National Treasury Employees Union Chapter 280, which represents many of the workers. Employees don't know which jobs or programs could be cut, and the hiring freeze Trump instituted eliminates the possibility they could move to jobs at other federal agencies.
"People are very worried," she said. "A few people have said they're thinking about leaving. Many others can't leave. It's very nerve-wracking."
Maryland Sen. Chris Van Hollen spoke on Thursday about recognizing federal workers' contributions.
"We rely on a good federal workforce to provide services to the American people, whether it's getting your Social Security check, whether it's folks making sure that polluters don't get away with dirtying our air and contaminating our water, and yet this budget cuts all those important investments," he said.
NTEU president Tony Reardon called for respect toward federal workers.
"They are committed to doing good work for this county, and to be treated like swamp creatures or nameless, faceless bureaucrats is really unfortunate," he said.
Trump's proposal already is facing strong resistance from members of Congress, who eventually will pass a revised budget.