A Maryland father who beat his infant son to death, buried his body and kept his death a secret for weeks will spend 40 years in prison.
Antoine Petty was sentenced Thursday for the murder of 2-month-old Antoine Flemons.
Police say Petty punched the baby in the torso repeatedly on Sept. 21, 2016, to stop him from crying. Eventually, the baby died from his injuries.
Petty and his wife, Geneice Petty, then placed their son in their 1998 Lincoln Town Car hearse for more than 24 hours before burying the boy behind Parkdale High School to hide the crime, police said.
The parents kept the baby's death a secret for over three weeks before the infant's grandmother reported her daughter and 2-month-old grandson missing.
Geneice and Antoine Petty eventually led detectives to a shallow grave, where the baby's remains were located.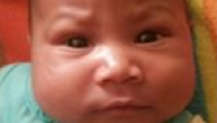 Geneice Petty pleaded guilty to involuntary manslaughter earlier this month. She faces a maximum of 10 years in prison when she is sentenced.