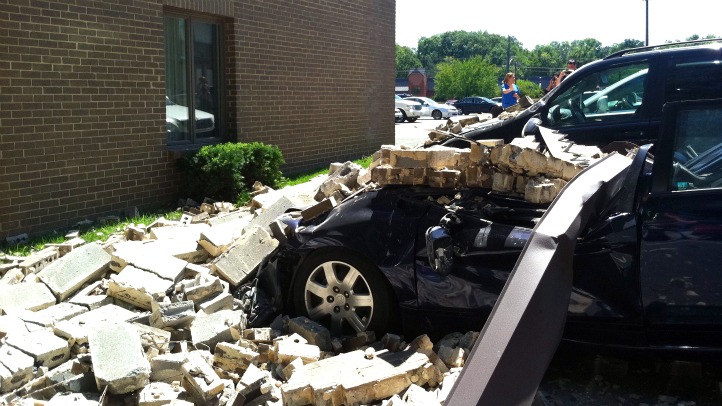 In the wake of this afternoon's 5.9 quake, reports of damage have come from around the region.
THE DISTRICT

The National Cathedral suffered damage to its parapets (spire-like rooftop edging), and there is debris currently resting in the grass there. At least one of the pinnacles is noticeably missing its top. The Cathedral is currently closed.
Union Station's iconic carved ceiling is displaying some cracks and missing pieces, and a library at 15th and Euclid street N.W. suffered a partial roof collapse.

The Capitol building has been inspected by structural engineers and is ready for re-entry. Those with offices in the Capitol will be permitted entry to collect their belongings and secure their workspaces. However, the U.S. Capitol Police are requesting that people limit their time inside to "an absolute minimum."

WTOP is reporting that the roof at the Best Buy location in Columbia Heights has partially collapsed.
Twitter user kateddc wrote that a church at 13 and Monroe streets N.W. has a fallen turret. "13th is one lane [northbound] for a few blocks," she tweeted.
AIRPORTS

National Airport has some ceiling tiles down, although flights are still departing. Arrivals were temporarily suspended, but have resumed. Dulles has all flights coming and going; BWI has some delays, but none are severe.

VIRGINIA

A large water pipe broke at the Pentagon, causing considerable flooding in some corridors on the third and fourth floors of Ring A. The water has been shut off, but will be turned back on soon. A Pentagon official said that is the only damage they know about at this time.
One office building in Tysons Corner showered parked vehicles with bricks or cinderblocks from its roof, crushing half of at least one car (see picture above). No one was injured.
Sherri Morris was at work in a sixth-floor building in downtown Falls Church, Va., when the quake hit. "The top floor was swaying back and forth. I ran down stairway and went home. Nobody had a clue what to do. When I got home... the TV in [the] upstairs bedroom was crashed on [the] floor!"
Cindy in Fairfax Station, Va., called the shaking "quite severe," and it sounds like her home agreed. "Crystal broken in hutch, stuff falling off shelves throughout the house and out of medicine cabinets, pictures all tilted on the walls," she wrote. "Some stuff on the floor. Scary -- house shaking and shaking and the sound of stuff moving and breaking in [the] house."
In Fredericksburg, Va., the police department reports that at least 11 buildings on Prince Anne, Caroline and Charles streets have damage. None are in danger of collapse. Two gas leaks were reported at Yates Circle and the FLS building; there was a water main break inside Cobblestone Apartments, and a structure fire on Cornell Street.

The town of Culpeper, Va. is 36.4 miles from Mineral, Va., and a state of emergency has been declared in Culpeper County. Public schools will be closed on Wednesday as a precautionary measure so officials can inspect buildings for any structural damage.

As of 5 p.m. Tuesday, Culpeper has three buildings that have been condemned. Another building, in the 100 block of North East Street, collapsed. One person was injured and taken to the hospital for treatment. Other buildings in old town Culpeper have damage to their façades. The county jail in downtown Culpeper was evacuated due to perceived structural damage to the building; 80 inmates were relocated to other correctional facilities.

A shelter at the Salem Fire Department in Culpeper, operated by the Red Cross, is open for residents.
David Fischer of Fredericksburg, Va., said his parents live just outside Mineral, Va., close to the epicenter. "Just spoke with them, they are OK, but things were definitely falling off the walls and shelves. Furniture here was shaking and rattling."
The Virginia Department of Transportation said the Commonwealth has no known road or bridge damage, but crews will be checking bridges the rest of today and tomorrow. "We will first check out bridges on 'rocker bearings'," said Joan Morris, public affairs manager at VDOT. "...Those bridges are from the '60s, maybe early '70s and the roller bearing could tilt if damaged."

All four tunnels in the Hampton Roads area, and the two mountain tunnels on Interstate 77, have been inspected with no sign of damage.

MARYLAND

Prince George's County says it has 37 schools with damage, and the County Courthouse in Upper Marlboro, Md., has a noticeable crack in wall. Four high-rise apartment buildings in the 3200 block of Curtis Drive in Hillcrest Heights, Md., were evacuated due to structural concerns, and a building at 3208 Curtis Drive has been condemned. Close to 250 people have been displaced. The county's Emergency Management team is opening a local community center for displaced residents.

John Hanson French Immersion and Montessori School in Oxon Hill, Md., has some cracks in their cinderblock walls, and a few panels of a drop ceiling fell.

In Bowie, Md., the top of a smokestack on Glenn Dale Road apparently crumbled, and a building in Oxon Hill, Md., experienced a partial collapse on the second floor.

George Belden was at work in Lanham, Md., making pizzas when "all the racks started shaking and it was as if your feet were moving a foot back and forth," he wrote us. "One of the stores in the plaza had a lot of ceiling fall down."

Retired earth science teacher Leslie Backus of Silver Spring, Md., notes she was finally awake for an earthquake. "The whole house shook; a light fixture was swinging," she commented on NBC Washington's Facebook page. "Items on shelves made noise. CDs were tilted. Music and a lamp [slid] off the top of the upright grand piano. At first, I thought my son was jumping upstairs. He thought I was doing something, but we quickly realized what it was."

Elaine Randall, of Huntingtown, Md., had been asleep when the quake hit, and thought it was a prank at first. "My husband's car moved forward a little tiny bit in the driveway (like someone shook it). I thought he came home early from work and was playing a joke on me."

TIPS: CHECKING FOR DAMAGE

Prince George's County offers some tips on surveying what damage you may have:
The majority of structures will be safe. Take this opportunity to assess your residence by completing the following steps:


Look for any new cracks that exceed 1/4" the width of a finger.


Look for displaced walls or beams in the basement and on each floor.


Look for walls that bow or lean in a way that is obvious to the eye.


If you find these conditions, please evacuate the building until an inspection by a qualified engineer or building inspector can be performed. Additionally, all residents should check their gas pipes at their house and smell for any leaks. If they smell gas, exit the house immediately and call the gas company.