A woman suspected of beating another woman and stealing her cellphone near the Potomac Mills mall died Tuesday after she was hit by a driver who sped off, Prince William County Police said.
Nicole Marcella Lemar, 36, and her boyfriend were fleeing a reported robbery by bike when she was hit by a minivan near Dale Boulevard and Birchdale Avenue in Woodbridge, Virginia, police said.
According to the initial investigation, Lemar and her boyfriend, Ronald Raymone Souers, 35, met an acquaintance at the Potomac Mills mall near midnight Tuesday and then attacked her, police said.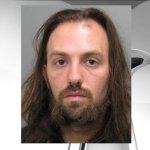 The pair argued with the 22-year-old woman, and Souers pushed her to the ground while Lemar beat her, police said. Lemar snatched the victim's cellphone and she and her boyfriend made off on bikes, according to police.
The victim received minor injuries. Police arrived on the scene about 12:20 a.m. During the investigation, a hit-and-run crash was reported about 2 miles away.
Lemar is believed to have been riding west on Dale Boulevard in the left lane when a driver crashed into her. The driver swerved into the median, got back on the roadway and kept driving.
The driver never stopped to help, police said.
Lemar was rushed to a hospital, where she died, police said. The Allentown, Pennsylvania, native was not wearing a helmet at the time of the crash, according to police.
Souers, a Woodbridge resident, remained on the scene of the crash and was arrested. He was charged with robbery and is due in court July 20.
Police are searching for the hit-and-run driver, who was in an early 2000s minivan, which is possibly a Dodge Caravan. It is believed to have damage to the fender on the driver's side.
Anyone with information is asked to call police at 703-670-3700 or 1-866-411-TIPS. Callers can remain anonymous. A reward of as much as $1,000 is offered.