What to Know
A man opened fire in a Denny's in Virginia the day after Christmas and shot two men. DoorDash delivery driver Yusuf Ozgur was killed.
Ozgur was a father of two who was working at night to make extra money for his family.
The two suspects are still on the loose and are suspected in several other armed robberies.
Update: Two suspects were arrested. Go here for info.
Two armed men stormed into a Denny's restaurant in Manassas, Virginia, early Thursday and shot two people, killing a food delivery worker who had just arrived to pick up an order.
Yusuf Ozgur walked into the restaurant as the robbery was underway, Prince William County police said. He "unknowingly held the door for the suspects as they exited," police said in a statement.
Ozgur worked for DoorDash. The 56-year-old Manassas resident was married and had two children, ages 10 and 16.
"He was a wonderful man. He never hurt somebody. Never. He was very good," family friend Cemil Uzun said.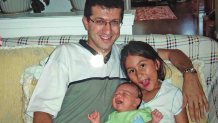 His teenage daughter said through tears that her father did all he could to provide for them. He was known as a neighborhood handyman and had been dealing with an illness, friends said. He was working as a delivery driver to earn extra money for his family.
Local
Washington, D.C., Maryland and Virginia local news, events and information
A second victim, a 34-year-old man, also was shot and had serious but non-life-threatening injuries.
Two men with masks partially covering their faces stormed into the Denny's at about 2 a.m. the day after Christmas and ordered terrified customers and staff members to the ground.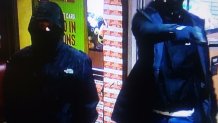 Surveillance footage shows the two slim young men run toward the restaurant at 8201 Sudley Road. They're both wearing dark jackets and skinny jeans. As soon as they pass through the doors, one of the men points a gun.
The men demanded the cellphones and wallets of the nearly two dozen people inside, police said. They also shouted for money from the cash register.
Minutes later, as the masked men were about to leave, they shot the 34-year-old man. He was "being cooperative while sitting on the ground as initially demanded," police said.
Then, they headed for the doors and ran into Ozgur. He held the door for them. One of the men hit him in the head with a baton. The other shot him.
The men ran away without any money from Denny's. It wasn't immediately clear if they took anything from the customers or staff.
Police responded at about 2:25 a.m. and treated the victims. Ozgur and the other man were rushed to a hospital, where Ozgur died.
Authorities believe the suspects are responsible for a string of recent armed robberies, including at a Walgreens in Woodbridge, and a Bowl America and Comfort Inn Suites in Manassas.
"They've escalated their level of violence," Prince William County Chief of Police Barry Barnard said at a news conference.
The FBI is assisting in the investigation. A reward of $10,000 is offered.
The suspects were described as black males in their late teens or early 20s. They each stand about 5-foot-10 to 6-foot and weigh about 180 pounds.
The police chief asked anyone with any information to contact the department, even if the info they have seems minor.
A fundraiser for Ozgur's family had raised $66,000 as of Friday morning
A DoorDash driver who knows the Ozgurs said Thursday night that her family convinced her to quit her job after Ozgur was killed. She had just had breakfast with the Ozgurs on Christmas Eve.
"I feel for the family," she said.
A fundraiser created for Ozgur's family had raised $66,000 as of Friday morning.
A statement from DoorDash said: "We are deeply saddened by the loss of Yusuf Ozgur, a Manassas-area Dasher. Our thoughts are with his family, friends and loved ones, and we are reaching out to his family to offer our full support during this difficult time. We are in contact with law enforcement and cooperating with their investigation of this horrific crime."
Mourners will meet Saturday at a Turkish-American mosque in Lanham, Maryland, the fundraiser page says. Ozgur is set to be buried in Fredericksburg, Virginia.
A woman laid flowers on the Ozgurs' doorstep Thursday night.