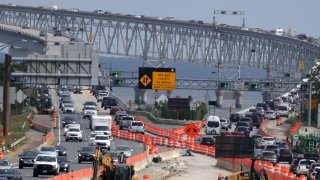 Two Maryland counties on either side of the Chesapeake Bay are calling for a new, bigger bridge between them.
The Anne Arundel County Council passed a resolution 6-1 Monday night calling for the state to replace the Chesapeake Bay Bridge's two spans with a single structure, WTOP-FM reported. It matches a resolution recently passed by the Queen Anne's County Council and calls for a new bridge at the existing site with at least eight lanes to provide adequate capacity and reliable travel times.
Maryland transportation leaders have recommended a new bridge, but proposals include a number of different options and locations, including adding a third span to the existing two spans at the present site.
The two counties want the state to scrap the third span option. A third span, in the same location or another, won't fix traffic for either county, Anne Arundel County Councilwoman Amanda Fiedler said. Fiedler, the resolution's lead sponsor, calls it a "step toward traffic relief" that will help residents move freely.
Copyright AP - Associated Press