The Washington D.C. police department has released police body camera video footage of the moments before officers shot and killed a man they say raised a weapon. That weapon later was found to be a BB gun.
Sherman Evans, 63, was shot and killed by officers the night of Monday, June 27 near his apartment close to The Catholic University of America, in Northeast D.C. Police said they needed to fire because Evans pointed a gun at them.
The release of video the night of his death comes as two shootings by police this week refocus national attention on officers' use of force. In Baton Rouge, Louisiana, an officer fatally shot 37-year-old Alton Sterling during a confrontation outside a convenience store. Outside St. Paul, Minnesota, an officer fatally shot 32-year-old Philando Castile during a traffic stop.
This is the first time the Metropolitan Police Department has released body camera footage of an officer-involved shooting since police began using the cameras in 2015.
The night of the shooting, the first 911 call came in at 10:22 p.m, according to an unofficial transcript of the D.C. Office of Unified Communications. Police believe Evans himself placed that call.
"Yes, miss, look. Uh, uh, it's a man out in front of the building brandishing a gun, right," the caller said, according to the transcript.
The caller asked for police to be sent to Varnum Street NE.
Local
Washington, D.C., Maryland and Virginia local news, events and information
Officers were dispatched at 10:24 p.m. and arrived on the 100 block of Varnum Street NE three minutes later, the transcript from police says.
The video taken by an officer wearing a body camera shows that officer scramble out of his squad car and point a gun.
"Drop the gun!" the officer can be heard shouting.
Several officers can be seen with their guns drawn. For seven minutes, they plead with Evans to drop a weapon.
"Come on sir! Put it down. We'll talk. We'll talk," an officer wearing a camera can be heard saying.
"Just stay there, bro," someone else says.
Police say the man then raised his arm and pointed the weapon at officers. The video from the two body cameras does not show that moment.
Then, 15 shots can be heard.
"Shots fired! Shots fired!" an officer says into a radio. At least five officers fired at Evans, and at least three bullets hit him, police said.
Officers handcuff Evans as he is facedown on a sidewalk, and rush to get medical help for him.
"Sir, are you alright?" officers repeatedly ask him. "Hang on, sir."
Officers hurry to move their cruisers to make way for the ambulance, breathing hard as they sprint.
Evans was taken at 10:53 p.m. to MedStar Washington Hospital Center, the transcript from officials says.
He was pronounced dead at 11:08 p.m.
Officers on the scene determined the weapon they say Evans pointed was a BB gun.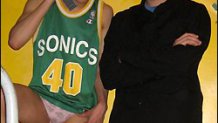 "You could just kind of hear the sigh, if you will, that it wasn't real after all, but unfortunately they didn't know that at that time," said Asst. Chief Kimberly Missouri of the MPD's Internal Affairs Bureau.
City Administrator Rashad Young spoke about how investigators linked Evans to the call.
"Our dispatchers called back that number. It is a number that appears to belong to the decedent and appears to have his name on his voicemail," he said.
Was this "suicide by cop"? News4 asked.
"We don't draw a conclusion at this point about about the mental state or the mental condition or the motivation of the suspect," Young replied. "We are reviewing that. We're investigating that. But it would be inappropriate to comment on his medical situation."
Young marked a difference between D.C. officers' actions on June 27 and how officers responded this week in Louisiana and Minnesota.
"How our officers respond, engage with the subject and the suspect before making the decision to use deadly force -- I think that is a marked difference when you look at this video versus the videos that are being talked about nationally," the city administrator said.
Evans lived alone, Marcus Gant, the manager of his apartment building, previously told News4.
"He was a good guy. He didn't bother anybody," Gant said. "I never would have thought he would do anything like this."
Friends said Evans suffered from depression after his wife died.
D.C. Mayor Muriel Bowser said she decided to release the police body camera video because she said it was in the public interest to see how the officers conducted themselves.
The chairman of the police union, Sgt. Matthew Mahl, blasted Bowser for releasing the video before the investigation into the shooting is complete.
"Releasing the video before the United States Attorney has had a chance to review this case for the merits of prosecution is absolutely irresponsible," he said. "Our body-worn camera video only shows a piece of the puzzle."
"I don't want to say timing of [the] release was because of what happened in Louisiana or Minnesota, but I think the national trend of police-involved shootings does play a role in when these videos are being released," Mahl continued.
The shooting is under investigation by police and the U.S. Attorney's Office. The officers who fired have been returned to active duty.
A memorial for Evans will be held Friday.
Stay with News4 for more details on this developing story.