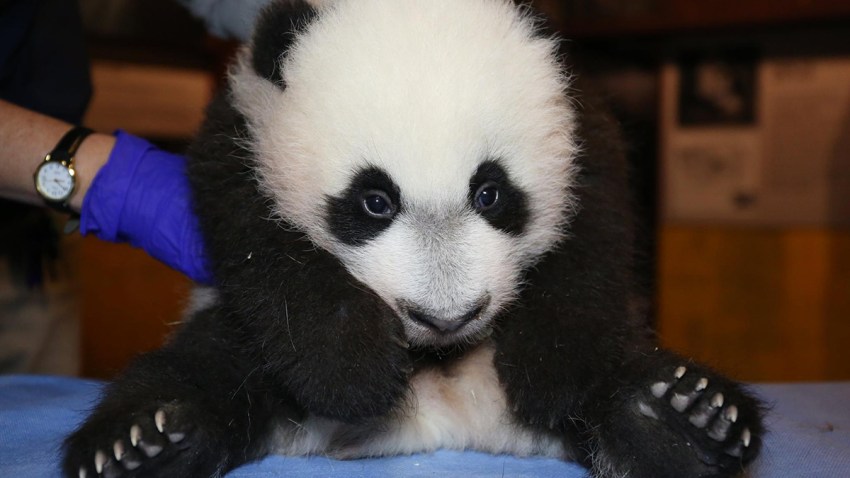 Hey Bei Bei, hey Bei Bei, hey! The National Zoo's giant panda cub, Bei Bei, will make his public debut Jan. 16, the zoo announced Tuesday.
Bei Bei will be nearly five months old by then. Since his birth Aug. 22, he's lived indoors with his devoted mama, Mei Xiang. Although she's been taking him out of the den since he was about a month and a half old, they have been shielded from the public.
Now the excitement is only going to grow. Massive crowds converged at the zoo when Bei Bei's older siblings, Tai Shan and Bao Bao, made their debuts, and the same result is likely in January. If you go, plan to visit early in the day when crowds are lighter, and consider weekdays instead of weekends.
If you're a member of Friends of the National Zoo (FONZ), you might not have to deal with the crowds. The week before Bei Bei meets the public, the zoo will offer a special preview for FONZ members. More details are coming soon, the zoo promised.
Bei Bei took his first steps just last week, under the watchful eye of his mom -- a milestone caught on video. His accomplishment was rewarded with a congratulatory cuddle from Mei Xiang, who prompty scooped him up.
The zoo said last week they expect Bei Bei to begin wandering around and leaving the den on his own to explore the indoor enclosure.