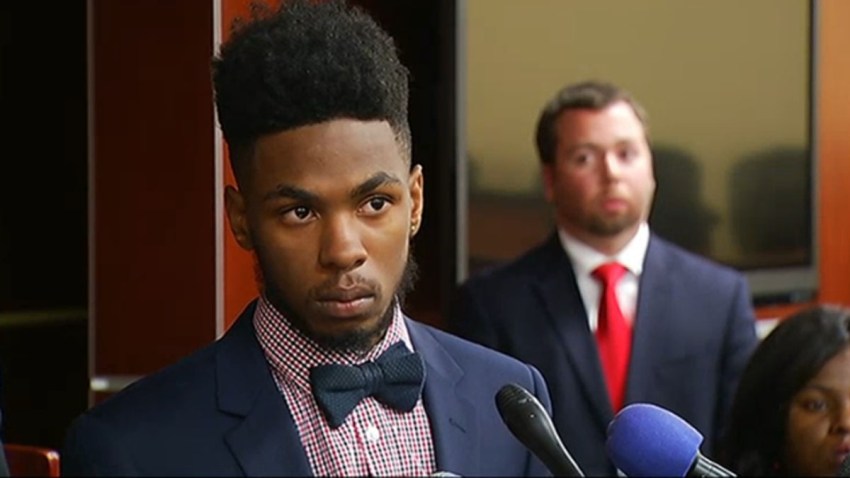 The 18-year-old man forcibly detained by D.C. police over a "misunderstanding" Monday evening ran from police because he feared for his life, he said at a news conference Thursday afternoon.
Jason Goolsby, a freshman at the University of the District of Columbia, was startled when he jumped out of the way of a police SUV in Southeast and was encountered by an officer with his hand on his gun and pepper spray in his other hand, according to Goolsby's attorney, Peter C. Grenier.
The officer threatened to use the pepper spray unless Goolsby got on the ground, Grenier said, but Goolsby said he refused because he had done nothing wrong and he feared something bad would happen to him.
"I seen the gun and the pepper spray, and I nearly got hit by a car, so my first instinct was to run, because I didn't want to die," Goolsby said. "I feared for my life."
He ran but was taken down forcibly by police, which was recorded by his friend, 18-year-old Michael Brown, who also was detained, Grenier said.
No one was arrested or charged.
Officers were responding to a call about three suspicious people near an ATM at the Citibank in the 600 block of Pennsylvania Avenue SE, D.C. police said.
Goolsby, Brown and another friend had just left training for a volunteer program to help troubled youths by promoting safe sex and AIDS prevention, Grenier said.
Goolsby, a musician, was about to withdraw money to pay for a studio session that night when he received a text postponing the session, Grenier said. He then held the door open for a white man and woman with a baby in a stroller, at which point the woman said she forgot something in the car and the family left.
Goolsby was on his way to a bus stop when police stopped him a few blocks away from the bank, Grenier said. Goolsby and Brown, who are black, were detained in handcuffs by several police officers for almost two hours.
"All of the involved police officers were white," Grenier said.
A 30-second cellphone video clip posted on social media with the hashtag #JusticeforJason shows Goolsby face down on the sidewalk scream as two officers try to handcuff him. "I'm not resisting," he says.
After Goolsby and Brown were released, Goolsby again asked why he was stopped, and the officer who detained him said a woman called and said he'd made her feel uncomfortable, Grenier said.
Goolsby suffered contusions and a shoulder injury for which he received medical treatment, Grenier said.
Police said they are investigating the incident.
"The Metropolitan Police Department is conducting a review of Monday's unfortunate incident to ensure that all procedures were followed," Deputy Mayor for Public Safety and Justice Kevin Donahue said in a statment.
Brown is a senior at Richard Wright Public Charter School, where Goolsby also attended high school. Neither has a prior criminal history, Grenier said.