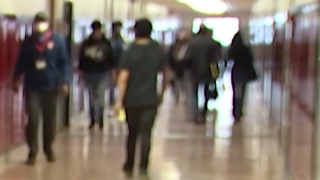 There's a push to save lives after five students in Montgomery County, Maryland, died from opioid overdoses since the beginning of the school year.
On Monday, Councilmember Will Jawando visited Northwood High School in Silver Spring as part of a listening tour and to share an urgent warning for students on the dangers of fentanyl: "It takes a little bit and you can die," Jawando said.
"More than half of the pills that are out there, that say they do other things, have fentanyl in them. And you don't know; you can't tell," he said.
Five students in the county have died from overdoses since the beginning of the school year, a spokesperson for Montgomery County Health and Human Services told NBC Washington. (An earlier version of this story cited Jawando on the deaths; he said they had all happened in January. The HHS spokesperson refuted that claim.)
We're making it easier for you to find stories that matter with our new newsletter — The 4Front. Sign up here and get news that is important for you to your inbox.
The warnings come amid a recent spike in overdoses involving young people. Montgomery County public school officials say they keep Narcan at every school in the county. They've already had to use it 11 times this school year to revive students from overdoses, they said.
Some students told News4 they want teachers to understand the enormous pressure kids are facing.
Local
Washington, D.C., Maryland and Virginia local news, events and information
"There's a lot of academic stress as we know; students are not just students. They do sports; they do academic things, clubs and stuff like that," Northwood student Delina Kebede said.
Kebede says she often sees a disconnect between kids and adults at school.
"I've talked to students, like, 'Why don't you go and talk to your counselor?' And they're like, 'They're strangers, so we don't know them.' So that's something we also have to fix."
This past weekend, MCPS held a forum on fentanyl, showing parents what signs to look out for.
Another student told News4 that several of his friends have overdosed, despite his warnings against it.
"It does kind of hurt me inside, 'cause I do tell them myself. But at the end of the day, though I am a friend, it may take somebody with authority to really say, 'Oh, you guys shouldn't really be doing this'," Northwood student Josiah Abraham said.
MCPS says it's considering putting Narcan in the school bathrooms for easier access, as opposed to just in the clinics.
Last year, 11 young people in the county died of overdoses.
"We just can't allow these numbers to keep happening this way," Jawando said. "It's sad for those families and for our community."